Get Ready for an Epic Adventure with Ant-Man and the Wasp: Quantumania Free Printable Activity Sheets!
Looking for some superhero-sized fun? We've got you covered! Celebrate the release of the action-packed film "Ant-Man and the Wasp: Quantumania" with our amazing collection of FREE printable activity sheets. Join Scott Lang, Hope Van Dyne, and their incredible family as they dive into the mind-bending Quantum Realm and face off against the mighty Kang the Conqueror!
These Marvelous Activity Sheets Include:
📝 Mind-Bending Mazes: Help Ant-Man find his way through the Quantum Realm!
🎨 Coloring Extravaganza: Unleash your creativity and bring your favorite heroes to life with vibrant colors!
🔍 Spot the Difference: Sharpen your detective skills and spot the subtle changes in action-packed scenes!
🧩 Puzzling Challenges: Test your wits with brain-teasing puzzles and riddles!
💥 Action-Packed Word Search: Hunt for hidden words related to the Quantum Realm and the Marvel Universe!
👀 And much more!
You Might also enjoy this Ant-Man and the Wasp: Quantumania Disc Spinner Craft
How to Get Your FREE Printable Activity Sheets:
1️⃣ 2️⃣ Download and print the activity sheets at home or at your nearest printing center.
3️⃣ Gather your colored pencils, markers, and your superhero spirit!
4️⃣ Have a blast solving puzzles, coloring your favorite characters, and unlocking the Quantum Realm's secrets!
Share the Fun:
Spread the excitement with your friends, family, and fellow superhero enthusiasts! Simply share the link to our FREE printable activity sheets on your blog, social media, or with anyone who's ready for a thrilling adventure. Let's unite in the realm of imagination and celebrate the heroic journey of Ant-Man and the Wasp!
Don't Forget to Catch "Ant-Man and the Wasp: Quantumania" on Digital and Blu-ray!
After enjoying the mind-bending activities, make sure to watch the epic film itself! Join Scott, Hope, and their incredible family on the big screen as they take on Kang the Conqueror in their most daring adventure yet. Available on Digital and Blu-ray, this action-packed movie will leave you on the edge of your seat!
But wait, there's more! Blu-ray purchases include exclusive bonus content like deleted scenes, a gag reel, and director commentary!
You can also watch this movie on Amazon Prime.
Dive into the Quantum Realm and Let the Adventure Begin!
Download your FREE printable activity sheets now and embark on an incredible journey alongside Ant-Man and the Wasp. Unleash your inner hero, solve puzzles, and color your way to an unforgettable experience. Get ready for action, laughs, and a whole lot of Quantum-sized fun! Don't miss out—click the link below and start your adventure today!
To celebrate the highly anticipated release of Home Entertainment's "Ant-Man and the Wasp: Quantumania," we are thrilled to share these fantastic Activity sheets for everyone to enjoy! Watch for the extraordinary Ant-Man as he returns with his entire family in their most epic adventure! Join Scott, Hope, Hank, Janet, and Cassie as they delve deeper into the Quantum Realm than ever before, facing off against the formidable Kang the Conqueror.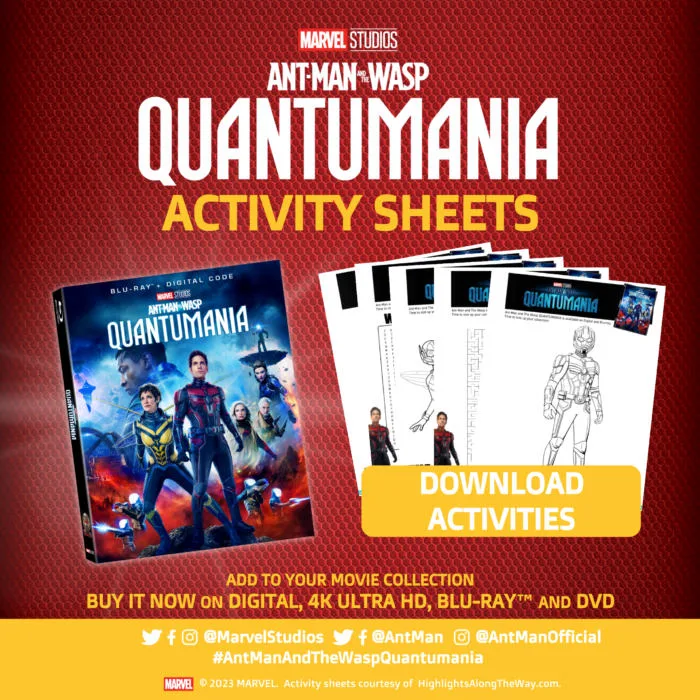 Ant-Man and the Wasp: Quantumania Free Printable Activity Sheets

Ant-Man and the Wasp: Quantumania 4K Ultra HD
Marvel Studios' "Ant-Man and the Wasp: Quantumania" will be available on Digital starting April 18, and on 4K Ultra HD, Blu-ray, and DVD from May 16. Fans can add this film to their collection and gain access to exclusive bonus content, including deleted scenes, a gag reel, and audio commentary by director Peyton Reed and writer Jeff Loveness.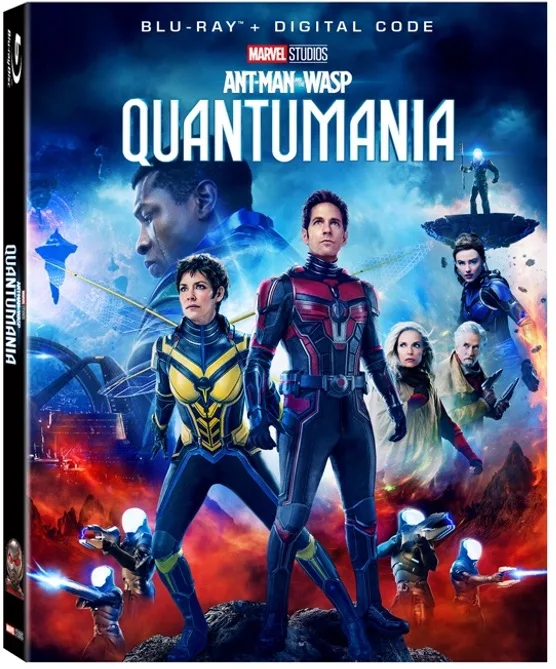 Film Synopsis:
In "Ant-Man and the Wasp: Quantumania," the dynamic duo of Scott Lang (Paul Rudd) and Hope Van Dyne (Evangeline Lilly) return as Ant-Man and The Wasp to embark on an electrifying new adventure. This time, they join forces with Hope's parents, Janet Van Dyne (Michelle Pfeiffer) and Hank Pym (Michael Douglas), as well as Scott's daughter Cassie Lang (Kathryn Newton). Together, they set out to explore the enigmatic Quantum Realm, a realm of infinite possibilities and untapped power.
As they navigate the perilous dimensions within the Quantum Realm, our heroes encounter peculiar and mysterious creatures, unveiling a whole new world full of wonders and dangers. However, their journey takes an unexpected turn when they come face-to-face with their greatest adversary yet: Kang the Conqueror (Jonathan Majors), an all-powerful and formidable force determined to conquer everything in his path.
With the fate of not only their own reality but also the entire Marvel Cinematic Universe at stake, Ant-Man, The Wasp, and their remarkable family must rise to the challenge and push themselves to the limits. As they confront Kang's devastating power, they must rely on their wit, courage, and unity to outsmart the conqueror and protect all that they hold dear.
Directed by Peyton Reed and produced by Kevin Feige and Stephen Broussard, "Ant-Man and the Wasp: Quantumania" delivers a thrilling and action-packed cinematic experience. Prepare to be captivated as the heroes journey into the unknown, discovering extraordinary abilities, facing extraordinary threats, and unleashing extraordinary heroism in their quest to save the world from the clutches of Kang the Conqueror.
It's time to size up your collection! Marvel Studios' Ant-Man and The Wasp: Quantumania is available to buy only at Digital retailers on April 18 and arriving on 4K Ultra HD™, Blu-ray™ and DVD on May 16. (And the movie just got even BIGGER! Over 2 hours of bonus content!)
Bonus Features*: Gag Reel: Experience the hilarious bloopers and outtakes from the set of "Ant-Man and the Wasp: Quantumania."
Audio Commentary: Watch the film with insightful commentary by director Peyton Reed and writer Jeff Loveness.
Featurettes: "All in the Family": Join Paul Rudd, Evangeline Lilly, and Michelle Pfeiffer as they delve into the intricate layers and unbreakable bond of this heroic family.
"Formidable Foes": Discover how Jonathan Majors, Bill Murray, and Corey Stoll bring depth and gravitas to the villains of "Ant-Man and the Wasp: Quantumania." Gain insight into Kang's role as a Thanos-level threat in this thrilling adventure and the wider Marvel Cinematic Universe.
Deleted Scenes: "Drink The Ooze": Witness Scott Lang's nervous encounter with the Quantum Realm as he anxiously drinks the mysterious ooze.
"I Have Holes": Experience Veb's exhilaration when he discovers that he finally has holes.
*Bonus features may vary depending on the product and retailer.
Cast: Paul Rudd as Scott Lang Evangeline Lilly as Hope Van Dyne Jonathan Majors as Kang the Conqueror Michelle Pfeiffer as Janet Van Dyne Michael Douglas as Hank Pym Kathryn Newton as Cassie Lang David Dastmalchian as Veb Katy O'Brian as Jentorra William Jackson Harper as Quaz Bill Murray as Lord Krylar
Directed by: Peyton Reed
Produced by: Kevin Feige, p.g.a. Stephen Broussard, p.g.a.
Executive Producers: Victoria Alonso Louis D'Esposito Kevin de la Noy
Screenplay by: Jeff Loveness
Product Specifications: U.S. and Canada Street Date: Digital: April 18, 2023 Physical: May 16, 2023