🌲🍏 Introducing Limited Edition Air Wick Seasonal Scents: Woodland Pine & Apple Crumble! 🍏🌲
Transform your home into a winter wonderland with the enchanting aromas of Woodland Pine & Apple Crumble by Air Wick. Immerse yourself in the captivating blend of fresh evergreen forests and mouthwatering apple goodness. This limited edition fragrance combination is designed to transport you to a cozy and festive atmosphere, filling your space with the essence of the holiday season.
🌲 Woodland Pine 🌲
Step into the heart of a majestic forest with the invigorating scent of Woodland Pine. Experience the crispness of freshly cut pine needles and the soothing aroma of fragrant balsam. Allow yourself to be transported to a serene winter landscape, surrounded by the beauty of nature. The fragrance of Woodland Pine will awaken your senses and create a calming ambiance in your home.
🍏 Apple Crumble 🍏
Indulge in the delectable scent of Apple Crumble, reminiscent of warm, oven-baked goodness. The sweet and spicy notes of cinnamon-spiced apples, buttery crumble, and hints of vanilla will fill your space with a mouthwatering aroma. Let the comforting fragrance of Apple Crumble evoke memories of cozy family gatherings and delightful holiday treats.
Why choose Limited Edition Air Wick Seasonal Scents?
✨ Unforgettable Experience: Immerse yourself in the perfect blend of Woodland Pine and Apple Crumble, creating an unforgettable sensory experience that enhances the joy of the holiday season.
✨ High-Quality Fragrance: Air Wick is known for crafting exceptional fragrances that bring life to your home. Their limited edition scents are carefully formulated to provide a long-lasting, consistent fragrance that envelops your space with warmth and beauty.
✨ Easy to Use: Place an Air Wick Woodland Pine & Apple Crumble scented oil refill in any Air Wick plug-in device, and let the festive fragrances permeate your surroundings. Adjust the intensity to your preference and enjoy the delightful aroma all season long.
✨ Unique Holiday Gift: Spread holiday cheer by gifting your loved ones the Limited Edition Air Wick Seasonal Scents. Share the joy and magic of the holiday season with a present that transforms any space into a winter wonderland.
Our Air Wick Seasonal Scents Review:
We're gearing up for the holidays with cleaning and wrapping and enjoying Air Wick Seasonal Scents. It's the perfect way to invite all the favorite smells of the holidays into your home.
Limited edition Air Wick Seasonal Scents include Woodland Pine and Warm Apple Crumble.
In addition to the amazing scents that fill your home, Air Wick is spreading joy this season as a proud supporter of the Global Fund for Children with a donation helping children in need.
It's easy to welcome family and friends into your home with Air Wick Holiday Scents.
Air Wick enables you to transform your home with their wide range of products. Everything from scented oils, to fresh and vibrant automatic sprays. There are scents of warmth in their candles and so much more. Every fragrance is passionately crafted allowing you to create the mood.
Air Wick Plug-In Scented Oils
MacKenzie loves Air Wick Holiday Scents. We have to stop in the aisle at the store for her to scratch and sniff. The brighten moods and really embody the holiday spirit for her.
This season's scents are Woodland Pine and Warm Apple Crumble. These Air Wick scented oils contain natural essential oils that provide long-lasting fragrance to your home.
The diffuser plugs into an outlet and allows you to control the level of fragrance simply by turning it higher or lower. We find that the scented oil usually emits fragrance for 45-days on the low setting. MacKenzie loves the smell, so she turns hers to high, and we get a little less mileage.
Air Wick Woodland Pine and Warm Apple Crumble
The Woodline Pine is a fresh, clean, crisp, Pine scent that smells like a fresh cut Christmas Tree.
The Warm Apple Crumble is the smell that will transport you back to your grandma and mother baking apple pies for the holidays.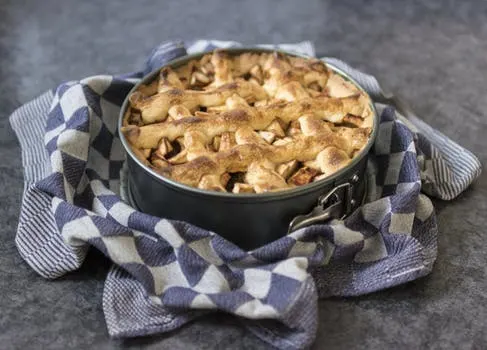 Both are scents that smell like the holidays at our house. In addition to these two Air Wick holiday scents, they also offer a variety of other scents that are sure to delight no matter the season.
Visit Air Wick to learn more about the scented oils, candles, wax melts, and other home fragrance solutions for a beautifully scented home this holiday season!
Embrace the spirit of the season with Limited Edition Air Wick Seasonal Scents: Woodland Pine & Apple Crumble. Create a cozy, inviting ambiance that captivates your senses and makes this holiday unforgettable. Don't miss out on this delightful fragrance combination—grab yours today!
🌲🍏 Air Wick Seasonal Scents: Embrace the Magic of the Holidays! 🍏🌲
If you are looking for an alternative option to this, you may like Scentsy Wax Melts.