While it's common for people to have some level of deterioration in their senses as they age, many may find it difficult to recognize signs of their own hearing loss. Before long they find themselves asking others to repeat what they've said and activities like watching a movie begin to feel more like a chore than entertainment.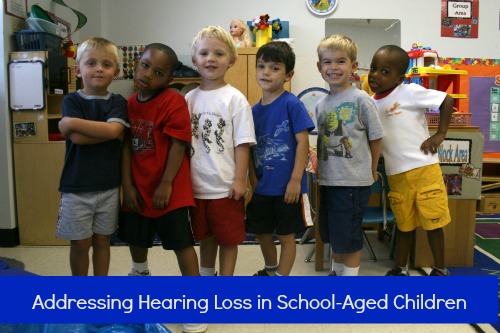 This can be an upsetting realization and a sad reality for all too many individuals. Although hearing loss can be difficult for adults to cope with, for children it can be detrimental. Hearing loss can directly affect a child's speech and language development, as well as their educational success. What's worse, they may not even be aware of their situation. Therefore knowing the common causes and symptoms of hearing loss in children is essential to finding the correct treatment.
How does one know when a child is suffering from hearing loss?
In older kids, symptoms of hearing loss may include ear aches, misunderstanding words that are spoken to them, and, among a number of other signs, failure to respond when someone speaks. Children suffering from some form of hearing loss may also complain that noises sound far away. Because very small children do not have the ability to communicate what is wrong, parents will need to be observant of behaviors that would suggest that there is a problem with their child's auditory system. If a small child fails to respond to a variety of sounds such as rattles, a startling sound or even a caretaker's voice, this could possibly indicate hearing problems.
Normal Milestones for Speech and Language Development
Hearing loss can directly affect a child's communicative development. Children learn to speak by mimicking others, and as such their hearing plays a pivotal role in their own speech and language development. That's why it's important to identify a hearing loss as soon as possible, that way you can find the best treatment possible to help improve your child's hearing. If you're concerned about your child's hearing, or if your child is showing a delay in speech and language development, it may be beneficial to schedule an appointment with an audiologist today.
What Causes Hearing Loss in Children
As for what causes hearing loss in kids, there are several possible explanations. One such explanation is the fact that ear infections are a common cause of hearing loss in kids, as kids are more susceptible to infections than adults. With an ear infection, children often experience pain and problems that include ringing in the ear. Therefore, it is important to treat an infection immediately. Leaving an infection untreated can lead to permanent damage to the ear. Other infectious diseases like measles, mumps, and meningitis may also lead to hearing loss, amongst other problems, which makes early childhood vaccines all the more important.
By addressing the signs and scheduling an appointment with an audiologist, you can help your child live without the negative effects of hearing loss. The Miracle-Ear Foundation has been helping both children and adults in need and has donated over 6,500 hearing aids nationwide. With communities located throughout the United States, the Miracle-Ear Foundation has been providing hearing aids, follow-up care, and educational resources since 1990.