Famed for its flapper girls, jazz clubs, and speakeasies, the 1920s was an era of carefree living post-wartime. Fitzgerald's novel The Great Gatsby is no exception and allows us to relive the Roaring Twenties. What's more, with the popular 2013 film adaptation starring Leonardo DiCaprio, the Art Deco style has been brought to the modern masses.
The film adaptation takes us through the iconic jazz age, giving audiences a first-hand experience of the infamous decade. But The Great Gatsby achieves more than just storytelling.
It has inspired a generation of interior designers to honor the iconic Art Deco period with sophisticated, retro living spaces.
We've put together a list of must-have Art Deco furniture for any Gatsby lover.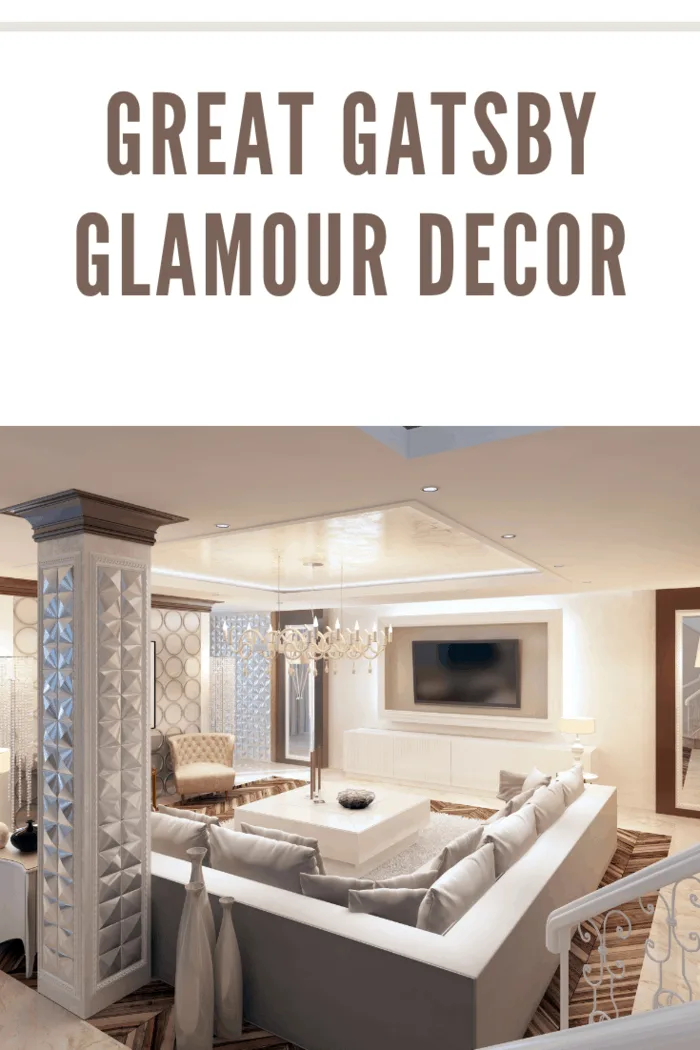 Great Gatsby home decor inspiration
The 1920s saw the birth of Hollywood's Golden Age, and as prohibition ran through societies in the USA, people took it upon themselves to host glamorous, hidden parties at home.
Mystery and allure were key themes to underground parties and luxury; geometric decor became a prominent design statement to any home.
What is considered Great Gatsby decor?
Art Deco was state of the art during its prolific years, with beautiful geometric designs focused on style over the functionality of pre-war home decor.
With this in mind, the possibilities of inspired furniture from The Great Gatsby are endless and desired in homes across the globe.
Typically Gatsby inspired home decor will focus on the art element of line.
So, straight lines, circular lines, curves, hexagons, and octagons are standard furniture features in this style.
Using exotic, earthy woods such as ebony and teak combined with the sleek, shiny exterior of tortoiseshell and marble are common Gatsby-inspired furniture materials.
As well as this, metals in chrome, iron, or brass give a refreshing contrast to other materials used.
Original twenties furniture would have likely used natural materials, but modern-day manufacturers often opt for faux materials, which can be produced in mass at a much more affordable price.
Choose classic '20s color schemes.
Manufacturers have caught on to the growing demand for Gatsby-inspired furniture, which has opened up the opportunity to have themed decor in various color schemes.
Original era furniture varied in color, and typical color pallets included dark and smoky colors contrasted with rich yellows, reds, silvers, metallic blues, and golds.
Furniture for your Gatsby-inspired home
Drinks trolleys
Commonly associated with the 1970s, it was actually during the 1920s that drinks trolleys first rose in popularity.
In recent years, the once redundant home addition has made a strong comeback, with famous brands such as En Vogue embracing the revival.
Drink trolleys are all about glamour and act as decadent statements that scream fun, frivolity, and good times.
Every Great Gatsby-inspired home should have one, and it's good practice to keep a few '20s party staples on the trolley, like vodka and gin.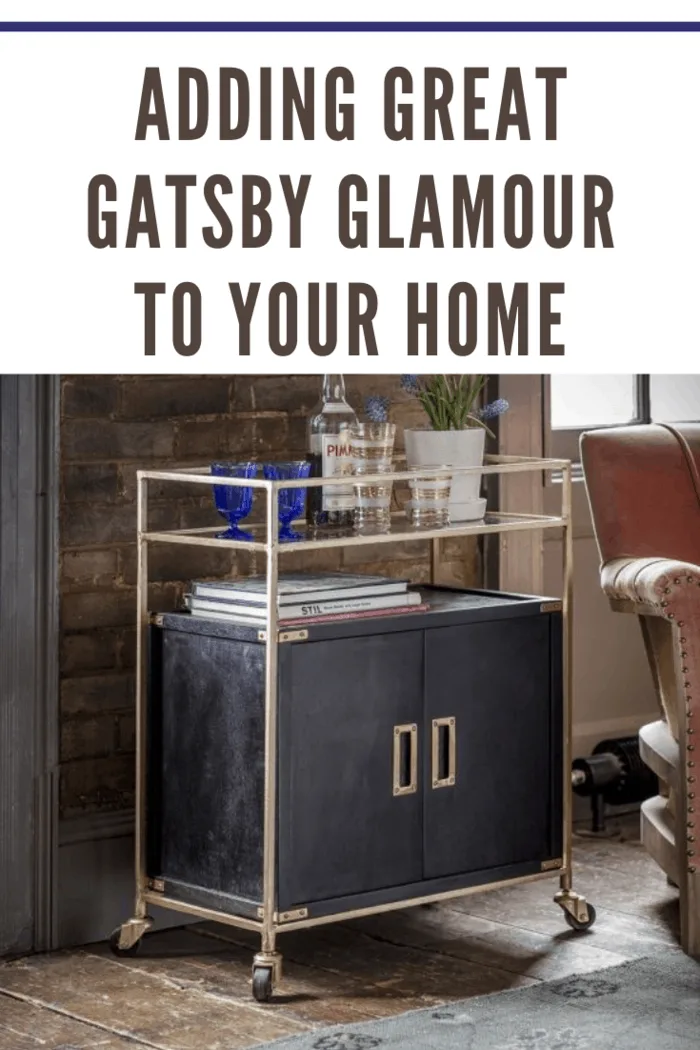 Marble coffee tables
Any Gatsby enthusiast will need a stylish surface to rest their weekend Gin Rickey or morning hot drink. Atkin and Thyme experts share marble coffee tables are the perfect addition to your themed home decor.
The marble furniture is dripping with a sense of luxury and can feature in any home space, including entrance halls, living areas, kitchens, and bedrooms.
With a variety of marble coffee tables available in all shapes, sizes, and materials, there is a Gatsby-inspired coffee table for everyone.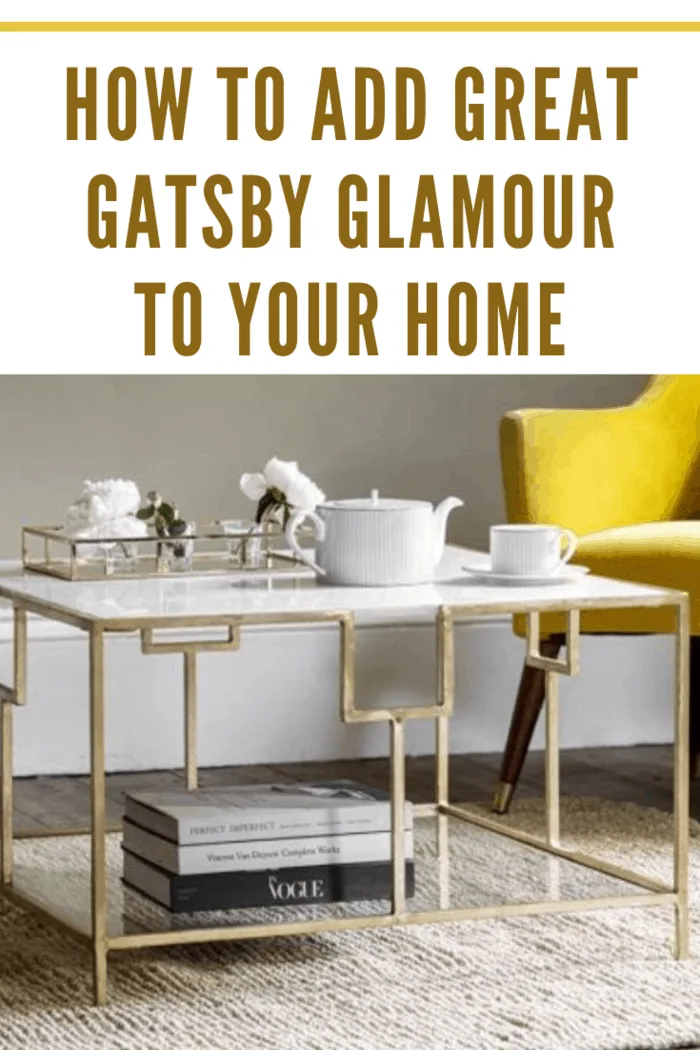 Mirrors
During the beginning of the 20th century, Art Deco mirrors have many uses within the home.
Firstly, as a glamorous and luxury statement, and secondly, as a functional way of reflecting light around the home to add more light.
Gatsby-style mirrors typically have beveled edges and intricate designs with geometric patterns.
They are often made with materials such as polished metals, wood, and special shells such as mother of pearl.
They are the perfect touch of extravagance to any Gatsby-inspired home.
Conclusion
With polished metals, precious shells, exotic woods, and shiny mirrored glass, it's clear that the carefree living and glamour of the Roaring Twenties extended throughout all aspects of life, including furniture design.
With style making a strong comeback in recent years, it's no surprise that Great Gatsby-inspired home decor is taking the interior design world by storm.
Happy decorating!