With children being home more, we thought you could use a list of activities and resources that will keep the kids busy. These are by no means exhaustive but may help to get you started as you figure out what works and what doesn't.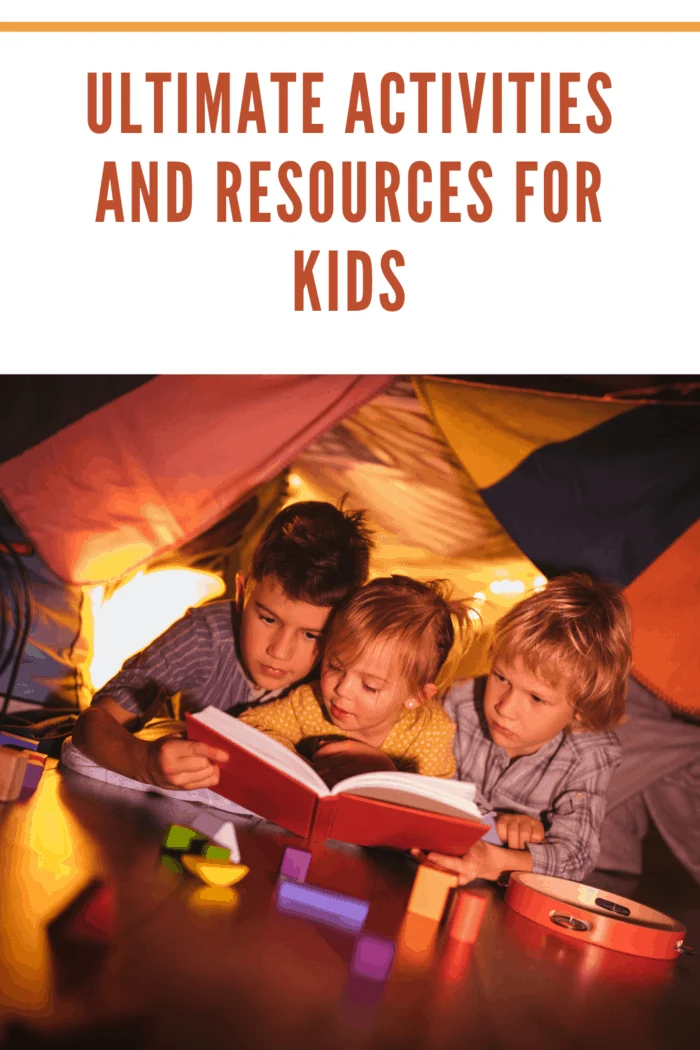 BEING HOME WITH KIDS: The Ultimate Guide of Activities and Resources for Kids
Allow children to choose something they'd like to learn about and challenge them to spend 30-minutes each day learning about it.
Set a 30-day Bake Every Day Challenge and bake something every day with the kids.
Help your child find a pen pal, or have them write an old-fashioned letter to a different friend, or family member each day.
Challenge them to use all their building toys to create the largest structure ever
Race Day: Make the day about racing: hopping on one foot, crabwalk, walking backward, relay, etc.
Do stop-motion videos with playdough
Have a Disney + Marathon
Facetime cousins or grandparents
Identify what plants, bugs, and wildlife are in your yard
Identify the parts of plants and flowers and how they develop
Please write a short story and illustrate it.
Learn how to do simple bookbinding.
Use your old mail to learn how to make paper.
Have a championship chart for board games, card games
Play with LEGOS
Get dot-to-dot books from the Dollar Store and let kids connect them
Teach the dog a new trick
Learn basic sewing stitches
Make Forts and reading caves, and when complete, give them flashlights, snacks, books, and pillows!
Use flashlights to make a shadow show.
Get a bird book and go bird watching (or use Google)
Learn how to make a stuffed animal
Make a solar oven and make smores in it
Smore Magazine
Put together puzzles as a family
Challenge Kids to make a donation box as they organize and clean their room.
Arts and Crafts like beading, painting, drawing, playdough or kinetic sand, sewing, etc.
Do yoga at home.
Zumba or Dance-along videos on YouTube
Draw self-portraits on blank faces
Learn how to write code. Check out the videos on YouTube.
"kitchen chemistry" type science experiments such as making slime
Bathe the dogs
Clean out the car
Mow the lawn (age-appropriate)
Play with sidewalk chalk outside
Have a glow stick party
Pop some popcorn and have a movie marathon
Listen to Kid Podcasts like Story Pirates and Smash Boom
Host a backyard Olympics or a Cleaning Olympics
Learn a new card game
Lots of art projects!
Go on a day hike
Create the solar system with whatever you have around the house
PuppetMaster: an app where you can animate anything from a drawing to a stuffed animal.
Puzzle races: put several puzzles (20+ piece puzzles) in a paper bag and shake it up. Pour pieces out and give each person the puzzle box they are to put together. Go!
Listen to Audible!
Make and play with Playdough
Make Kinetic Sand
List of Activities and Resources:
Play Ideas/Simple Projects/Science Experiments: these suggestions use everyday household items that are things most kids can do with minimal supervision, and some produce something they can play with after the project/experiment part is done.
Build a blanket/pillow fort/base/hideout and play in it
Dress-up (old Halloween costumes, capes, winter/summer wear, etc.)
Kitchen (play for younger kids; simple real meals or baking for older kids)
Legos! (you can give them an assignment of something specific to build or just open play)
Set up tracks and play with trains or cars
Board games, card games, twisters, etc.
Build with popsicle sticks/glue (bridges, towers, 'log' cabins, etc.)
Build paper airplanes / fly them (which one goes farthest? highest? fastest? craziest flight path? can land on a target?)
Collect samples outside and examine them with a magnifying glass (check out the veins in leaves, the texture of bark or rocks, etc.)
Colored water/oil experiment (this is great because kids 'make' a new toy – a discovery bottle that can also double as a calm-down timer)
Volcano experiment (baking soda/water to make a 'hill' and slowly pour vinegar on the hill)
Penny experiment (dirty penny in lemon juice or other acids, watch to see if it gets shiny)
Set up a chain reaction/Rube Goldberg machine (think common toys/household objects like train tracks, balls, dominoes, cars/tracks, toilet paper rolls, etc. and use stairs, ramps, etc.)
Build with cardboard – trains, cars, planes, houses, forts, robots, etc.
Yoga (there are tons of simple yoga videos on YouTube that kids can easily follow)
Backyard sports (soccer, frisbee, baseball, etc.) / backyard play
Build and run an obstacle course
Write a book or comic book.
Arts and crafts – draw, paint, create!
Origami (there are tons of simple tutorials online)
Scavenger hunt (indoors or outside)
Garden/plant seeds/bulbs (spring is a great time to get a garden started, and older kids can be in charge of both planting and daily watering/observations)
Build a puzzle
Make a rubber band ball
Go through photos or take new photos and create a picture book
Make music (anything can double as an instrument!)
Put on music and have a dance party
Content that is entertaining or educational:
These can incorporate learning opportunities such as age-appropriate writing about a book/podcast/video, choosing a topic and researching it/putting together a report or presentation, etc.
Read a book! Can incorporate reading to siblings, audiobooks, comic books, etc.
Podcasts
GoNoodle (e.g. water cycle (see YouTube))
Discovery Channel "How It's Made" series
Bitsbox coding projects (this is a monthly subscription)
Building/Activity kits (a few suggestions below – many options available on Amazon)
Snap Circuits
Robot building kits (tons of options for a range of ages/skills)
Wooden projects (tons of options, some motorized)
Science kits (again tons of options, only independent for older kids)
Magnet build sets (especially good for younger kids)
Marble runs/mazes
Workbooks, puzzle books, coloring books
Scholastic grade-specific learning experiences – (you have to set up an account, but it is free and has excellent content for a variety of ages/grade levels)
TV Time:
Everyone has their own thoughts on how much TV is good for kids — I'm not here to make up your mind for you, but here are a few shows that kids like and are educational too!
Magic School Bus (both original and Rides Again)
Storybots
Octonauts
Sesame Street
Daniel Tiger's Neighborhood
Electric Company
Nature shows – like Planet Earth, Blue Planet, Discovery Channel shows, NatGeo, etc. (maybe it's just me, but my kids dig these and have learned a lot from them)
Documentaries (mostly for older kids, but there are a lot of educational options on many different platforms)
Mythbusters (for older kids)
Apps that are kid-safe and age-appropriate:
Many have free versions but some require payment for the app or for features within the app.
Lightbot apps for programming/coding (ages 4+)
Minecraft
MobyMax
Libby (online library but must connect through an existing library account)
Bedtime Math
Khan Academy (math, science, humanities, etc.)
Prodigy (math)
PBS Kids
NASA
Other/Possibly Useful info/links:
Common Sense Media (can search for apps, movies, tv, books, games, etc. by age)