There are many healthy foods that are good for babies, but the 7 that we show you below are the most recommended by doctors and nutritionists.
The list includes everything from fruits and vegetables to meats and grains, which stand out for the following reasons:
– They are loaded with essential nutrients.
– They are not expensive.
– They prepare easily.
– They're delicious.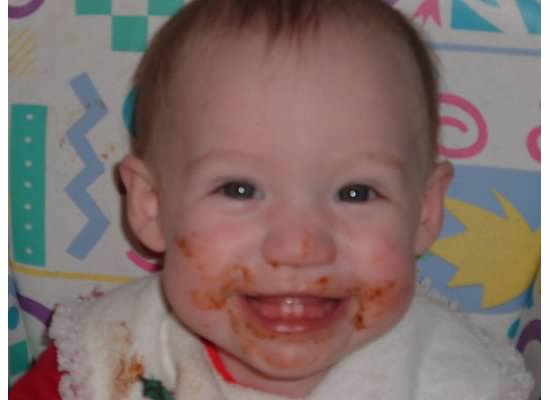 Some of these foods become favorites of babies.
Before your little one starts eating solid foods, talk to your pediatrician, and ask what foods you can give your baby and when.
Before reading on, see what successful entrepreneur, Feras Antoon, has to say about popular baby foods that have tested positive for harmful ingredients.
It is advisable to wait three days before offering new food.
In this way, you will be able to tell if the child has an allergic reaction to any of them.
Avocados
Many moms choose avocado as the first food for their babies.
Avocados are a good source of unsaturated fats, a type of beneficial fat that babies need for the development of their brains.
Idea to serve
Crush the avocado with a fork or make baby guacamole.
Bananas
The banana provides a good source of potassium and also contains vitamins B6 and C, calcium, and iron.
It is also very practical because you can carry it in the bag and give it to your baby with a teaspoon.
Idea to serve
Make a banana puree with mango.
For the first smoothie or smoothie of your baby, mix banana and peach puree with whole milk yogurt.
Blueberries
Cranberries are rich in antioxidants. The deep blue color of these fruits comes from the type of flavonoids they contain, called anthocyanins, very good for the eyes, the brain, and even the baby's urinary tract.
Idea to serve
Blend or crush blueberries well and put this purple purée in your baby's yogurt.
Broccoli
Overflowing with folate, fiber, and calcium, broccoli is also recognized for its anti-cancer properties.
Try to introduce this vegetable of singular flavor early in the feeding of your little one.
That will help expand your palate and encourage a preference for green vegetables.
Idea to serve
Cook pieces of broccoli steamed until tender.
Then cut them into small pieces that are small enough so your child can eat them safely.
Cooking it steamed takes away the strong flavor of broccoli.
Keep in mind that some babies like the texture and taste of broccoli when it's cold.
Lentils
Beans and other legumes are rich in protein and fiber.
But unlike the large beans, the small lentils become a soft baby food with a perfect consistency for your baby.
They are also one of the cheapest healthy foods you can buy.
Idea to serve
Cook the lentils with finely chopped carrots.
When your baby is older, add more nutritious foods in a lentil stew.
Beef
Remember that lack of iron can cause anemia.
The American Academy of Pediatrics recommends that beef is one of the first foods for the baby because it is an excellent source of zinc and iron, especially red meat and dark poultry.
In addition, babies absorb iron better from meat than from other iron-fortified cereals, which are often also some of the first foods of babies.
Idea to serve
If your baby starts eating solid foods, you can prepare a chicken puree.
As you grow you can introduce new flavors with this stew porridge with beef.
Plums
Fresh or dried plums (prunes) have a smooth consistency, are sweet, and rich in fiber.
It is possible that your baby suffers from constipation, once you begin to include solid foods in your diet.
For better digestion, add pureed plums to your baby's meals.
Idea to serve:
Serve the prune by itself or mixed with other foods, such as cereal, oatmeal or applesauce, to obtain a naturally sweet dessert.
BONUS:
Yamo Quetschies is a fast-food for babies that you can take on the road during traveling or when you have only a little time.