I received Cooking with Frank's RedHot Cayenne Pepper Sauce in exchange for this post. All opinions are my own.
Those who like their food with a little heat, know everything tastes better with Frank's® RedHot® Cayenne Pepper Sauce. There's a reason folks have loved Frank's RedHot sauce since 1920 when the first bottles of cayenne pepper sauce rolled out of the factory. It's fame came in 1964 when it was used at the Anchor Bar in Buffalo, New York to make the very first batch of Buffalo hot wings.
Beyond hot wings, you can pour Frank's RedHot sauce on pizza, drizzle it on nachos, add it to hamburgers, marinate meat, dip celery and so much more.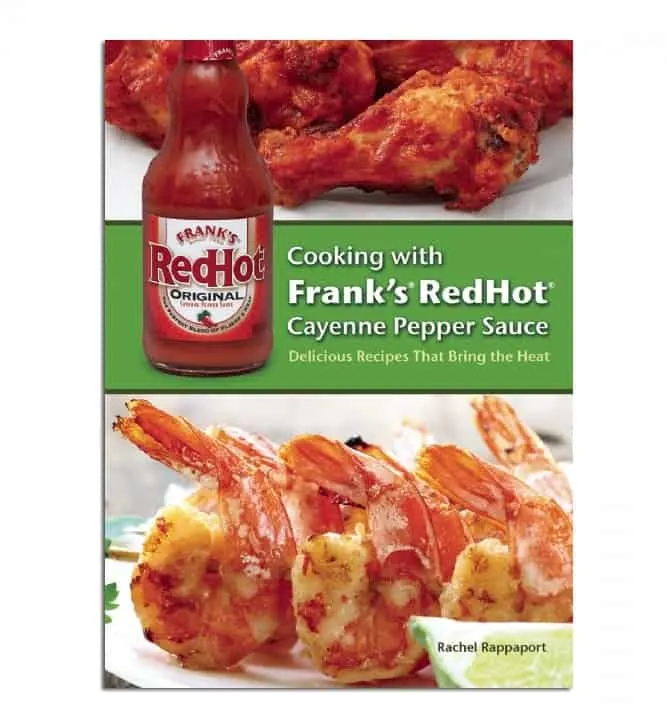 Fans of Frank's RedHot Sauce can discover how delicious it tastes cooked into your food in Cooking with Frank's RedHot Cayenne Pepper Sauce with 65 sizzling recipes that bring the heat, including:
• Cinnamon Cayenne Buns
• Fiery Breakfast Sausage
• Atomic Wings
• Buffalo Fried Oysters
• Spiced Party Mix
• Smoky Hot Bacon Mac & Cheese
• Piquant Bison Chili Dogs
• Sizzling Sesame Noodles
• Zesty Cobb Salad
• Tangy Pineapple Pulled Pork
• Sugar & Spice Peach Crumble
This book offers 144 pages with 65 mouth-watering recipes that all feature Frank's RedHot Sauce. It goes beyond the traditional wings and showcases the possibilities of that little bottle of sauce.
Some of the recipes were things I already do, add it to chili, but there are some that are incredibly unique like Frank's Peanut Brittle, Frank's Beer Ice Cream, and Cinnamon Rolls with Frank's Icing. Enticing just by the title, they are recipes I want to try!
The recipes are simple. They offer easy-to-follow instructions that don't require any technique. Each recipe also includes what to do with the leftovers, not that you'll have any.
I enjoyed reading through the book and discovering a little history nestled in the pages. There are also "Pro Tips" that will help you create the best dish.
It's a great book and the only one sponsored by the brand.
I'm a fan of cookbooks, especially ones where every recipe features a photograph. This cookbook is a great addition to any cookbook collection!