Most people view Invisalign as a braces alternative for adults, but not many consider it a viable treatment option for children. Yet, there is no age requirement for this advanced orthodontic system. Children, like adults, may prefer the discreet and flexible nature of Invisalign trays over the bulky, permanent, and oftentimes uncomfortable setup characteristic of braces. Likewise, parents may appreciate that Invisalign requires fewer adjustment visits and less time to work, two facts that can equate to cost savings. While many individuals — dental professionals included — may try to convince you that braces are best for your child's teeth, there are a few truths to consider before you discount Invisalign entirely.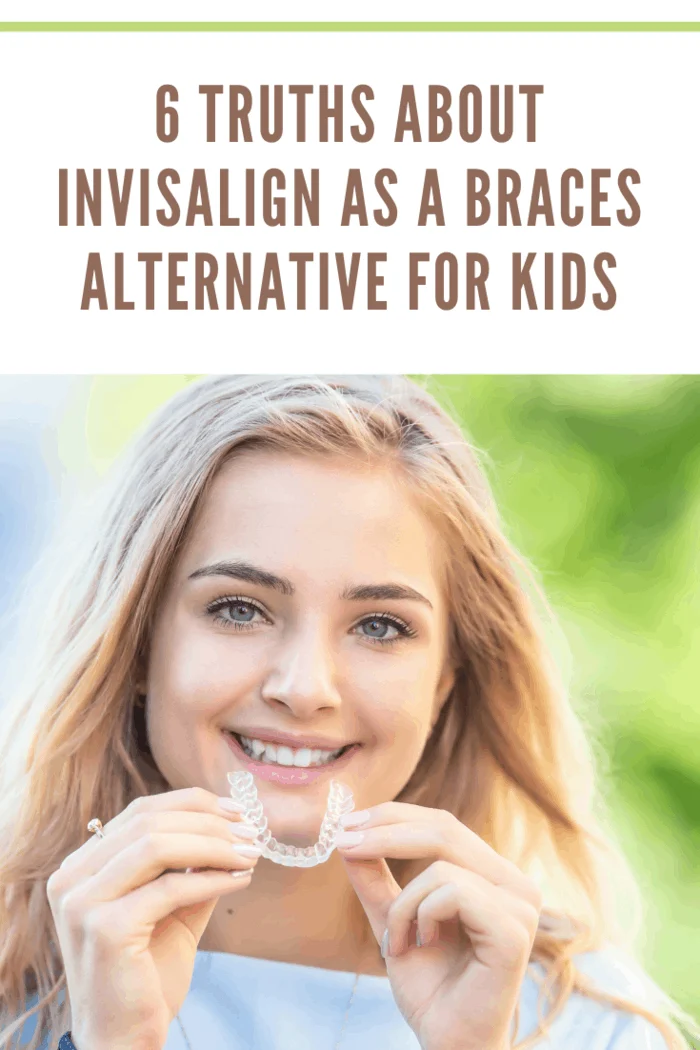 Find an Experienced Invisalign Provider
Before you explore all the reasons why Invisalign may be a viable braces alternative for your child, make sure you find a qualified Diamond+ Invisalign provider beforehand. The right professional can examine your child's mouth, identify major and minor issues, develop an effective treatment plan, and discuss possible treatment options with you.
What is a Diamond+ Invisalign provider, though? Recently, Invisalign developed a three-tier ranking system to help prospective patients distinguish the safest and most reliable providers from all others. Providers reach the first tier — the Gold Tier — when they successfully treat 25 patients in a single calendar year. Professionals who treat at least 60 patients per year attain Platinum status. Diamond status is the topmost ranking and honor granted only to the best Invisalign providers in the nation. When patients are in the care of a Diamond+ provider, they can count on receiving the most professional and experienced treatment available.
1. Invisalign Lets Kids Eat What They Want
Because Invisalign trays are removable, orthodontic patients can take them in and out of their mouths as the need arises, including when they eat. This means that, unlike traditional metal braces that snap, break, twist, bend, and poke with the slightest provocation, your child has no limits to what he or she can eat. From popcorn to chewing gum and from nuts to corn, your kid can enjoy all of his or her favorite treats and foods without fear of consequences.
2. The Trays Are Easy to Clean
One of the biggest benefits of Invisalign over braces for kids is the ease with which you can clean them. The wires, brackets, and bands characteristic of traditional braces trap tiny food particles that your child may struggle to remove with regular brushing. Though your provider at King Orthodontics may equip him or her with a special brush designed to reach tight spaces, a young patient may not take the necessary time or care to clean between the wires thoroughly. Over time, half-hearted cleanings can lead to plaque and tartar buildup and, eventually, decay.
With Invisalign trays, the risk of decay is minimal, as your child can remove the trays and brush as normal. While he or she brushes, the trays can soak in an appropriate solution to clean them of debris, odors, or stains.
3. The Trays Are Comfortable
Unlike traditional braces, Invisalign trays are comfortable and, when they fit properly, cause virtually no pain or irritation. Not only will observers not realize that your child is wearing them but because of how comfortable they are, neither will your child.
4. Invisalign May Be Ideal for More Complex Cases
Many people assume that Invisalign is only a viable treatment option for adults, teens, and children who require simple orthodontic treatment. This is not necessarily true. Many orthodontists use the trays with other appliances to correct more complex issues, such as extreme bite problems or severely crooked teeth. By getting creative and combining proven tactics, you, your child, and your orthodontics team can work together to combat severe issues in a fraction of the time that it would take with just a single method.
5. Invisalign Works With Developing Mouths
In the early days of Invisalign treatment, the system was designed for fully developed mouths. As a result, children needed to lose all their baby teeth before becoming eligible candidates for Invisalign. Today, however, Invisalign offers an alternative treatment that specifically targets the needs of younger children. This alternate aligner system targets arch expansion, meaning kids as young as seven, and those with baby teeth remaining in their mouths are suitable candidates for Invisalign.
6. The System May Work Better for Children
Children are adaptable. Due to this truth, Invisalign may yield better results for children than adults. In fact, according to one doctor, orthodontic treatment almost always goes smoother for young patients than it does for adults, as the kids are not constantly taking the trays out of their mouths to talk, drink, laugh, or just get comfortable.
For the longest time, Invisalign was an orthodontic treatment reserved exclusively for adults. Things have changed, however, and now the brand offers systems for all ages and stages of development. Discuss Invisalign for kids with your orthodontic team to see if it is right for your child.