As your son enters adulthood, it may be difficult to maintain your relationship with him. He won't always be around due to school and work obligations. It's important for you to make the most of the time you spend with him, especially if he's going through a tough time.
Maintaining a positive relationship can be difficult, especially if your relationship experienced problems while he was growing up. Here are five steps you can take to strengthen your relationship with your adult son: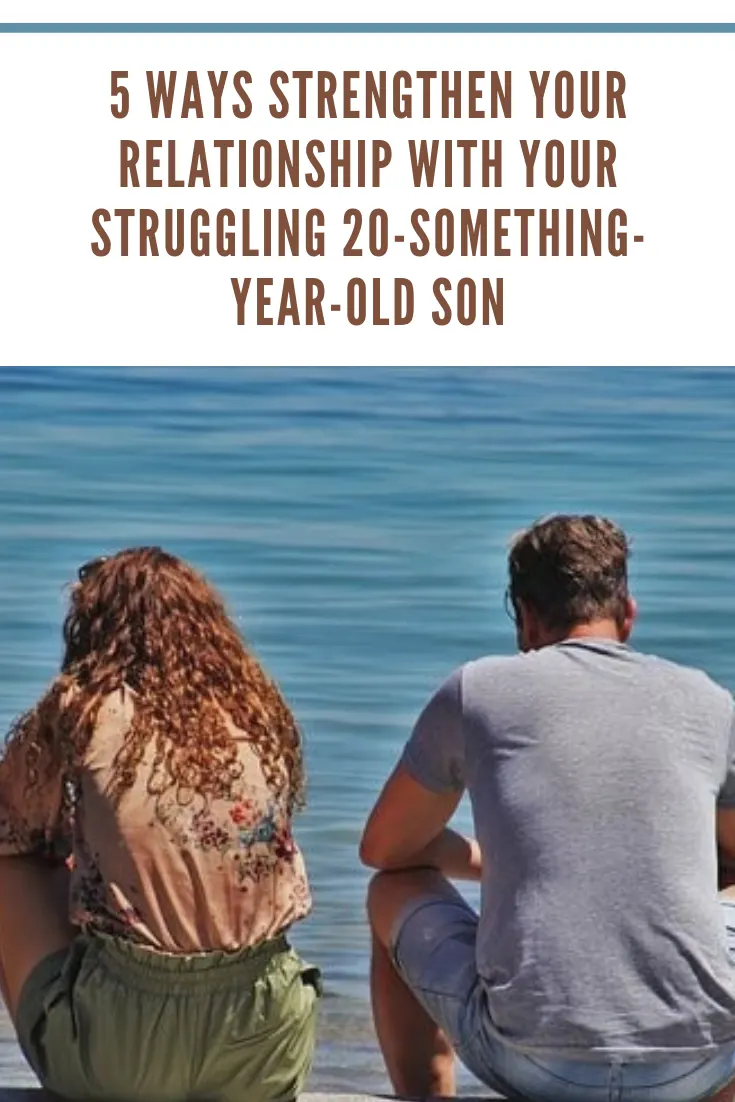 5 Ways Strengthen Your Relationship with Your Struggling 20-Something-Year-Old Son
Have an open conversation with him. Identify the root of any specific problems your relationship has:
Have you been controlling or offering unsolicited advice about his chosen career path?
Do you focus on yourself when you talk and forget to ask how he's doing/feeling?
Focus less on his specific behavior and choices.
Devote more attention to your role in the damaged relationship and what you can do to fix it.
Apologize when necessary and establish what you will do differently in the future.
Are you quick to talk over your son, offer unwanted advice, or lack empathy when he's speaking?
If so, recognize these ineffective communication patterns.
Instead, you could:
Allow him to finish speaking before contributing to the conversation
Focus on genuinely listening when he's speaking
Offer empathy, even when you don't fully agree with his beliefs or lifestyle choices
Adapting these productive communication patterns will take time.
Focus on making them a natural part of your communication.
If you're lucky enough to live in the same city as your son, spend time with him in person.
Workaround both of your busy schedules and set aside specific mother-son bonding time.
Consider taking up a new hobby together.
Try something like painting or cooking with your son.
These types of skills are great to learn together.
They encourage communication and respect.
You can hold each other accountable for learning these new skills and support each other through the process.
If you live in a different city or state than your son, visit him.
Don't just see him on family-oriented holidays like Christmas and Easter.
Schedule a special trip to see him and encourage him to visit you back home.
Maybe your son's girlfriend didn't attend college.
Perhaps she has a lot of tattoos and sings in a rock band.
But don't reject your son's girlfriend, or boyfriend, if they don't meet specific expectations you have.
You should welcome them with open arms as long as they make your son happy and don't engage in toxic or destructive behavior.
She could be around for a long time, so be enthusiastic about the relationship.
Try to spend time with them on an individual basis.
Make them feel like a part of the family.
This step towards strengthening your relationship with your son is important, especially if you've openly disapproved of his past romantic relationships.
If your relationship has weakened due to his mental health conditions or addiction disorders, it's time to seek professional help.
Perhaps you've already tried, but professional facilities help young men through addiction recovery.
A sober living facility is not a rehabilitation facility; it is a center where your son can learn new ways to cope with his addiction in a relaxing environment.
This kind of intervention will help your son overcome addiction and focus more on maintaining the relationships in his life.
Conduct your own research and find the right professional help for your relationship.