Kaisercraft is available in traditional retail stores, but it is actually much better to buy these craft products online.
For instance, the practice of shopping online is overtaking the practice of shopping at brick-and-mortar stores because online shopping is so easy, reliable, and generally safe. Although it is sometimes easy to find your favorite products offline at stores, it is sometimes better to shop online due to how online shopping better supports business or at-home production processes.
Additionally, buying online is faster because it allows you to save your shopping profile and make repeat purchases at the click of a button. However, in spite of these benefits, there are a few more reasons buying Kaiser crafts online will likely become your preferred method of purchase.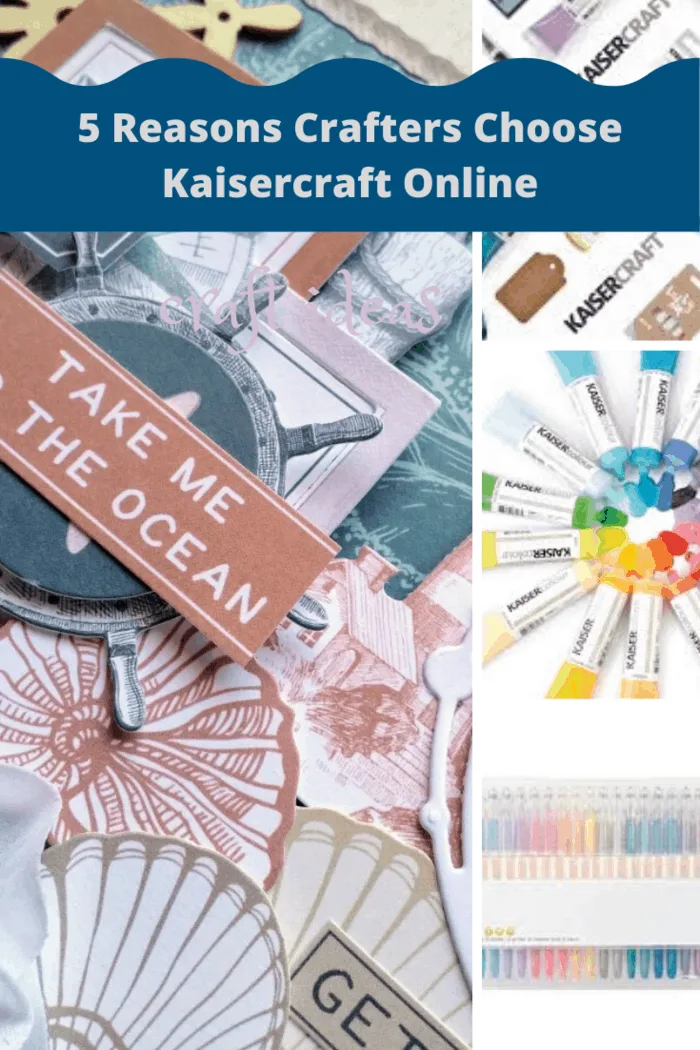 5 Reasons Crafters Choose Kaisercraft Online
Shopping experience
First and foremost, you want your craft products to be of high-quality.
Kaisercraft products that you find online are of the same quality as any product you will find in stores.
Additionally, in the same fashion that you like to window shop Kaisercraft products, you can shop online and see pictures of all the products and read all the specifications.
You have access to a variety of photo galleries that can provide you ideas of how to complete your own projects, and you can get inspiration if you are having problems designing new products for your portfolio.
Furthermore, you have access to reviews. With access to reviews, you can see exactly how other customers just like you feel about their products. Additionally, you can learn about unique ways others have utilized a specific Kaisercraft item.
Finally, you can shop at your leisure. You do not need to fight traffic or worry about crowds. In fact, you can shop whenever inspiration hits you as well as anywhere you have an internet connection.
Variety
Unlike real-world stores that have limited shelf space, online shopping involves no such limitation.
Consequently, shopping for Kaisercraft online allows you to review each and every available product. From cutters to misters to design templates, you can find it all–and more.
– embossing folders
– dies
– embellishments
– stencil templates
– stamps
The above items represent only a small fraction of everything Kaisercraft makes available online. In fact, you have access to hundreds of products–only online. This means your ability to create whatever you want is only as limited as your imagination.
Reliable
If you are a craft person, purchasing your favorite products online can result in better production pipeline, ensuring your gifts or retail products meet your own production schedules. Kaisercraft only selects reliable vendors to handle its products. Consequently, you can rest assured that your order will meet your needs. Additionally, every vendor offers warranties, so your purchase is protected.
Because most items ship either the same day or on the following business day, you can rest assured that you will receive your items within 3 to 10 business days, depending on where you live.
Perks
Buying online gets better when you receive perks, such as free shipping for orders over $50. Additionally, shopping online allows you to receive notifications of promotions that might have either just started or are going to expire soon.
Finally, perks involve being easy to order. For instance, in addition to simply clicking an item and having it moved to your online shopping cart, you can receive notifications of related items that will make your purchase complete. if you purchase glitter and paper, you might be able to benefit from also purchasing stencils or templates. With each item, you will receive all the suggested add-ons to help make you as satisfied as possible.
In terms of redeeming a gift card, purchasing Kaisercraft products online could not be easier. All you need to do to redeem your gift card is simply enter the card number into the online check-out form. However, it is important to note that gift cards are only valid up to six months from the date that they are issued.
Scope
Kaisercraft is available in a variety of countries, and the products are available seven days per week. It does not matter where you are or when you need your products. If you shop online, you have access–immediately.