When it comes to decorating the house, or getting ready for a festival, glow in the dark paint can seem like an original way for you to get creative and express yourself. We've found five fun applications for glow in the dark paint to get you inspired before embarking on your next art project – whether that's on a canvas, a wall, or a friend!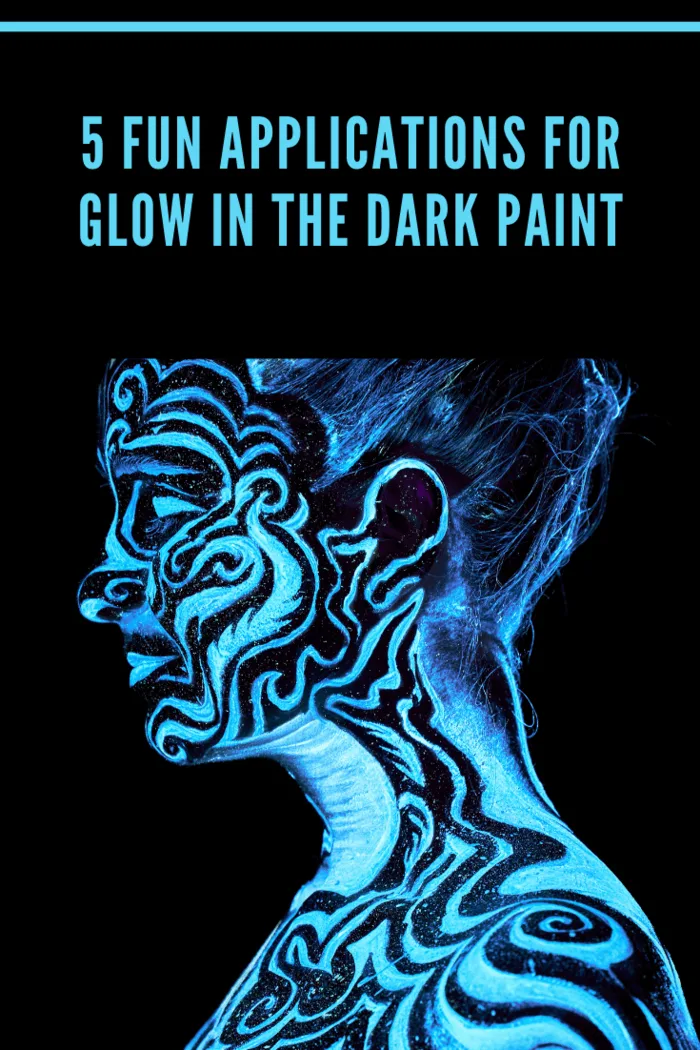 UV Glow Party Outfits
The Glow In The Darkness website shows how you can make objects actually glow in the dark and how this is a natural phenomenon that you can observe in the world around you!
They've worked out the science so that we understand how our artwork glows, even when it isn't actually dark – with the help of UV lights.
This makes glow-in-the-dark paint perfect for UV parties or raves, where party-goers can throw paint on their faces or clothes in different patterns to glow and stand out once the UV light strobe hits the dance floor.
As a result, choosing an outfit for your big night out will need a different kind of consideration, as it will be covered in paint!
You might opt for a simpler and plain outfit rather than your most expensive designer dress – since glow-in-the-dark paint is unlikely to wash out of your clothes.
Using glow-in-the-dark paint can add an electric vibe to the party and reflect the excitement of everyone there.
Bedroom Decoration
One way you can use glow-in-the-dark paint, which you might not have previously considered, is to decorate the bedroom.
Instead of normal paint, creating a mural on a bedroom ceiling with glow-in-the-dark paint will mean that the mural shines best at night.
This is perfect for children who are afraid of the dark and usually need a nightlight. Instead of relying on you to turn off the nightlight to save energy and the environment, glow-in-the-dark paint won't zap your electricity!
You can find inspiration for glow-in-the-dark murals online, but the most common ceiling paintings effective for inducing a good night's sleep include the night sky with twinkling stars or your kids' favorite animals in a calming scene. S
If you're not artistic, there are plenty of pre-made murals available online that you can apply to the ceiling or wall stickers that peel off to leave behind the glow-in-the-dark paint.
Educational Purposes
Glow-in-the-dark paint can be a perfect educational tool in schools or at home to demonstrate to children how light travels and works at different frequencies.
You can also have some fun with this and teach children about the different formations of stars so that they can spot different star shapes in the night sky.
The paint can be an excellent addition to the classic science experiments in school, where you learn how to make slime or bouncy balls.
Imagine the faces of the children who not only make their bouncy ball or gooey slime but make it glow in the dark, too, once the lights are off!
This is a key way that you can encourage even the most resistant students to get involved in the classroom.
Brighten the Outdoors
We've all seen how effective solar panel lights are in the garden during the summer, but what about in the winter when there is less sunlight to power these solar lights?
Coating your plant pots or old jam-jars with glow-in-the-dark paint can be an effective source of light in your garden at night, one that doesn't rely on electricity or solar power – which isn't always reliable!
Not only can your garden benefit from this additional light source, but this is an innovative solution to lighting up outdoor events in the evening without the trip hazards of cables lying everywhere.
Glow in the dark paint is bound to get the conversation flowing too!
Artwork
An alternative to oil or acrylic paints, glow-in-the-dark paintings can add a hidden element to your artwork if you're an artist that loves to experiment away from the traditional or mainstream techniques in art.
You can even use glow-in-the-dark paint over the top of existing acrylic paints, but it works most effectively when the bottom acrylic layer of paint is a lighter color like white, pale pink, and other neutral tones.
The possibilities of fun to have with glow-in-the-dark paint are endless, so what's stopping you from incorporating it into your next project at home or in the workplace?
Glow in the dark paint isn't just a fun tool for special occasions at parties, but a paint that offers endless – and amazing – opportunities that will benefit young and old alike.