Outdoor games are an important part of every child's life. They not only create some lifetime memories but also help them to grow.
According to a recent study, it was found that close to 600,000 children in Australia did not engage in outdoor activities. So, if you are running out of ideas and want your children to experience the fun of outdoor games, you are in the right place.
So, let's go!
Have you tried playing Backyard Cricket with them?
Cricket is one of the most popular sports in Australia. So, it is necessary for you to at least try it once with your child. You can make it more interesting for your children if you have a backyard. Plus, you don't need any extra equipment like wickets, a cricket kit, a proper cricket ball, etc.
You can use the tree for your stumps, a clean waste bin, or the fence outline. The second wicket can be a flower pot lying in your backyard or even a chair!
You can easily buy a wooden bat and a couple of tennis balls. And, when you are ready for the fun game, make some backyard rules, like one-drop-one hand catches are Out, a direct hit to the outer fence is an out, etc.
You can also come up with interesting rules like missing out three consecutive deliveries is an out, or you can stick to the classic rules, as well. This way, your child can invite some friends over and have an amazing time. However, for the trick to work, make sure you are ready with some chilled lemonade post-match, or you can also take them to their favorite fast-food joint, as well!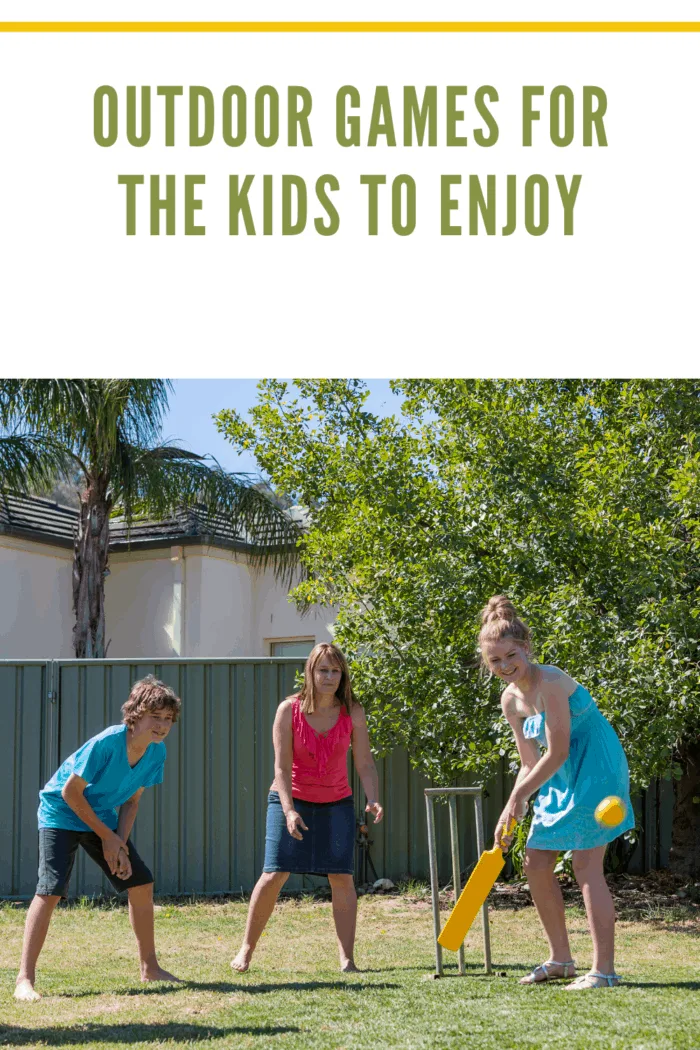 Playing catch is a great way of spending time with your children!
This game is like an ice-breaker, and I am sure you are drooling over your childhood memories of playing catch with your dad. If your kid has become a couch potato with a Playstation or mobile phone, get them out of their room with a pair of baseball gloves and hit the local games store to buy a baseball.
This game also becomes quite interesting if you have a pet dog at home. You can teach your child how to play fetch and catch with your dog, and the three of you can have an amazing time together.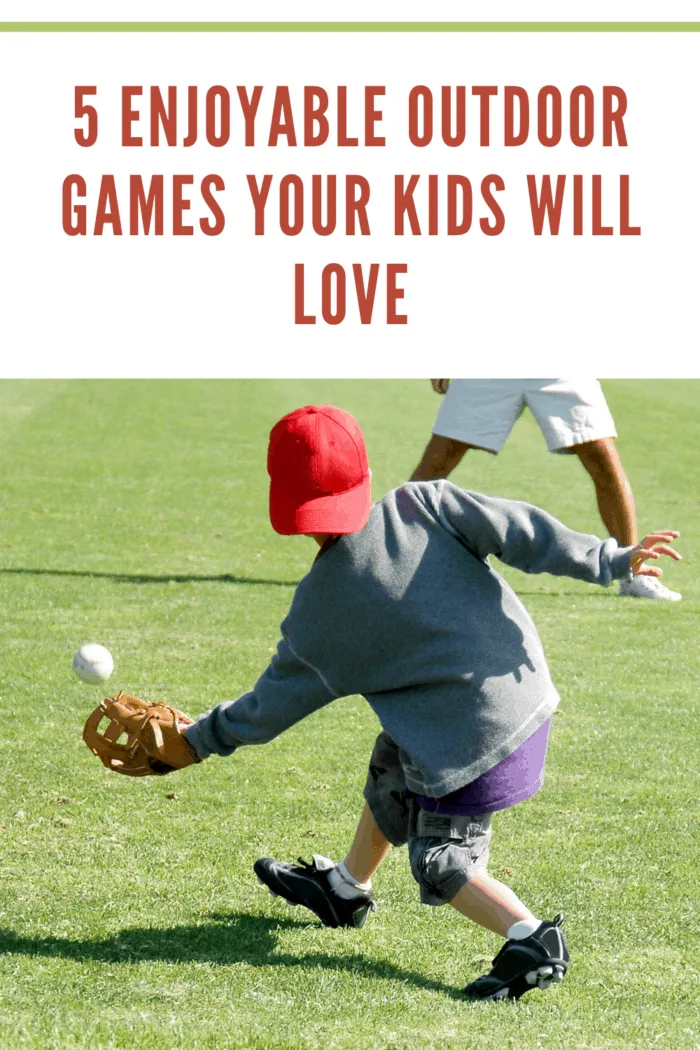 You can stick to an all-time classic like Hiding and Seek!
The experts at Life Span Kids say Hide-and-seek is undoubtedly the king of all kids' outside play ideas.
Plus, all it requires is a large backyard and many friends.
This game will help your children stay active, but at times, even you can accompany them and have a gala time together.
Imagine throwing a barbeque party and inviting your neighbors and their kids.
You can easily suggest this game during the get-together and get going while your barbeque grill is preparing the burgers and sausages.
Have you tried the Egg & Spoon Race?
Have all your teachers given up on teaching your kid the art of patience?
Egg & Spoor race is at your rescue.
This is one of the most fun games, keeping them entertained and making them great at patience.
Kids love challenges, don't they?
And, I am confident that you loved it, too, when you were a kid.
So, all we need for this game is a spoon and egg. If you do not want to waste eggs, you can also go for golf balls.
You have to draw a starting line and a finish line and give them a spoon each, along with an egg or a golf ball.
The rules are pretty simple – reach the finish line without dropping the egg.
This will help them to think on their feet and be patient and active at the same time.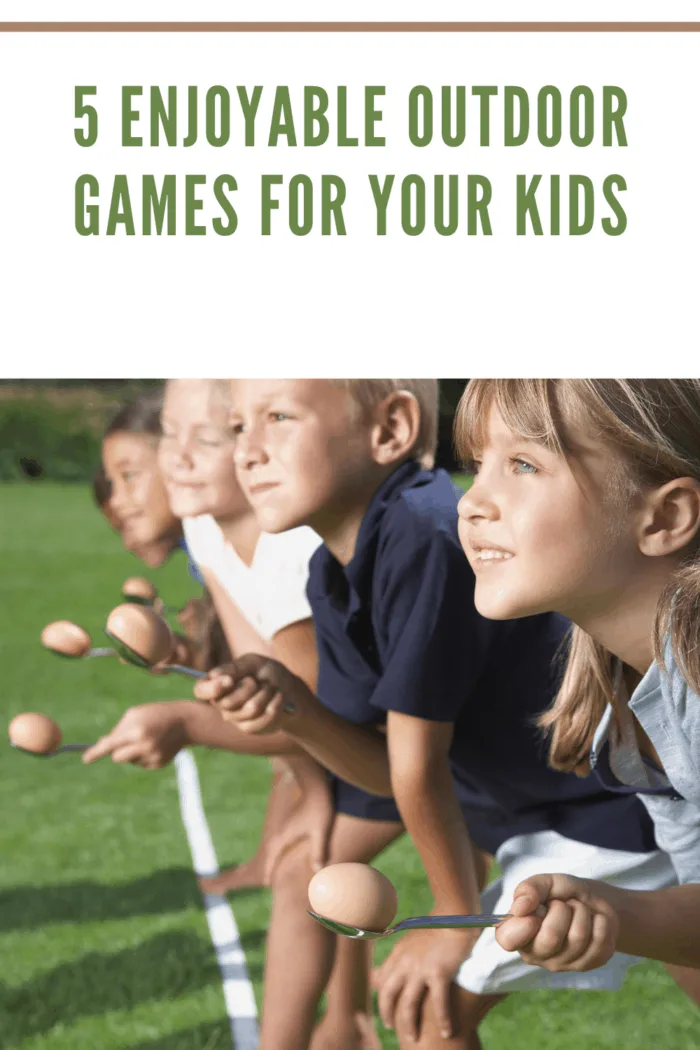 Musical Chairs – the best game for a fun group activity!
This outdoor kids' game is made for fun and a lot of enjoyment.
All you need is some chairs, Bluetooth speakers, and a phone with a good playlist, and you are all set!
The game is simple: there will be one chair less than the number of participants in the game, and you will have to sit when the music stops.
The one who fails to find a seat is penalized with a fun activity like dancing like a monkey, acting as your teacher, etc.
After every round, one chair is eliminated from the cluster, and that is how the game proceeds until there are just two people left with one chair.
In the end, whoever finds a seat is declared the winner.
A study showed that 29% of children have a mobile phone in Australia.
So, if you don't wish to contribute to this number, start prepping with some of these games in the article and let your child experience the fun of outdoor games.