Finding the right gift to give this coming holiday is not easy, especially if you want to give something memorable, practical, affordable, yet made of premium-quality materials that can last for years, at least. While everyone is going for electronics, backpacks come into the scene. Everyone needs a stylish bag to carry daily essentials.
It's an excellent gift for an outdoor adventurer, a daily commuter, weekend backpacker, or someone into sports and wants their stuff organized in one place. A backpack is undoubtedly a great gift idea for Christmas. If you are searching for the most affordable bags without compromising style and durability, we've got you covered. Read along as we give you the five top-rated bags to consider this holiday!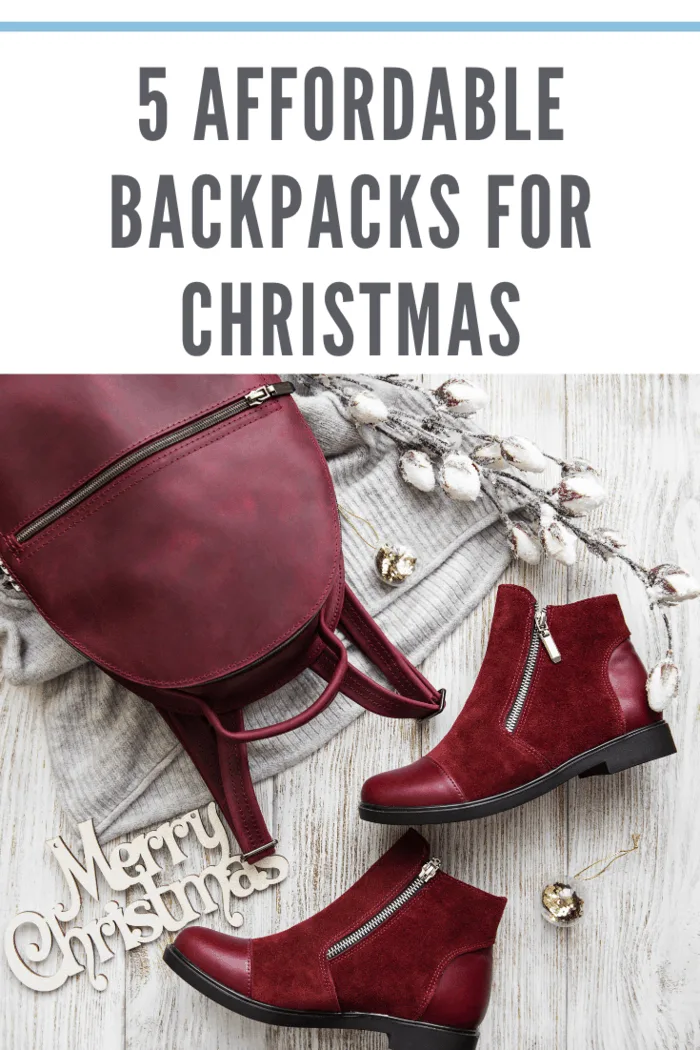 Are Backpacks Great Gifts For Christmas?
For someone who needs to commute daily to work or tends to bring several essentials while out, backpacks are an ultimate must-have to organize all things. They are also a great gift idea for the coming holidays. However, finding the right one can be challenging with tons of available products in the market.
Since backpacks come in various shapes, sizes, functionalities, and designs, the right gift selection varies with several factors, including price. You need to determine your budget, the person's interest, preference, gender, and age.
Before you purchase your backpack as a gift idea for the holidays, these elements will help you weigh your options and find the best deal:
• Check the design to see if it will fit the person's personality or interest
• Check the materials used and ensure it's durable
• Check the compartments, usage storage, and pockets
• Determine the size of the bag
• What can be placed inside
• Age and gender of the person you'll be giving with
• Shoulder strap support
Backpacks are great Christmas gift ideas, especially for anyone. Be it with kids, students, daily commuters, soul wanderers, outdoor enthusiasts, and more. For safety, you can also place electronics and other everyday gear inside the pack. Nonetheless, it's your sweet gesture of giving that highlights the holidays for someone who'll receive your gift.
What Are the Most Affordable And High-Quality Backpacks For Christmas
Now that you've decided on giving the best and most affordable bag for the holidays, these five backpacks are not just trendy or cheap; they are highly recommended, durable, and stylish. They are cool gift ideas you can include on your shopping list!
1. Herschel Supply Co. Little America Backpack
The Herschel Supply Co. bag is a popular choice for an affordable yet stylish and iconic look. Not just about the price, but its multifunctional features blend with any settings from t-shirt outfits, relaxed jeans, polished work attire, etc.
It's a top-rated backpack that offers enough room for all your daily and outdoor essentials. With a correctly secured laptop compartment, you can hop from the office to camping or travel anywhere in style.
The interior storages enable you to store chargers, headphones, and more. Its padded shoulder straps allow you to travel in style and optimum comfort suitable for everyone.
2. Swiss Gear Laptop Backpack
When it comes to high-end quality backpacks, this bag is not an exemption. Whether you love to travel or your career requires you to, this is an excellent bag to accommodate all your daily essentials.
It's a perfect bag size for traveling and commuting and perfectly functions to improve your daily routine. With a secured laptop compartment to ensure your valuables are well-kept. Aside from the protection that it offers, comfort and support are not compromised. You get the best gift idea for the holidays at an affordable price.
3. Dagne Dover Dakota Backpack
This backpack is available in three different sizes to meet individual demands and comes in many colors for everyone. It's all-around back from the gym bag, daily essentials, weekend pack, and more.
The bag is made with highly durable materials, water-resistant, shock-absorbent, and high-performance components that secure your valuables. While the sporty look perfectly blends on any setting, this bag is undoubtedly a great Christmas gift for anyone.
4. Eastpak Austin Nylon Backpack
If you're looking for a stylish, affordable, and durable backpack selection, this one should always be on the list. With a padded compartment for your electronics and laptop and an attractive design, it's a perfect fit for universities or the first day at work.
It is made with heavy-duty, durable, and hard-wearing materials (nylon). The padded shoulder straps ensure comfort and optimum support when you carry your loads. This backpack offers durability and premium quality that is backed up with 30 years of warranty.
5. Case Logic SLRC-206 Camera Backpack
If you're hunting for the best Christmas gift idea for a photographer, this backpack is affordable and practical and has all the perfect points in place. This camera and laptop pack are strategically designed to carry your SLR camera and all of its accessories attached to it.
The backpack itself is padded, flexible, and fully customizable inside. With shock protection, your camera lenses or laptop are protected. Plus, the shoulder straps offer comfort with a back cushion for better air circulation.
Conclusion
With the top recommendations and buying guide features, searching for the most affordable bags to give on Christmas is easier. Backpacks are essential gear that lets you carry all your valuables securely and conveniently. They are practical gift ideas for anyone who's always on the move.