Coffee fuels me. I drink it in the morning and in the evening and through the day. It's the first thing I offer when you come to my house to visit. Earlier this month I hosted a Coffee Get Together where International Delight Iced Coffee was the star attraction!
Even with the weather turning crisp, Iced Coffee is one of my favorite drinks. Sharing with my friends was a wonderful experience.
I thought the Mocha would steal the show, however, the Caramel Macchiato seemed to be everyone's favorite. It's also available in Original, which is creamy goodness.
I joked and told everyone, "This is not your grandma's coffee!"
I use to make my own Iced Coffee using this recipe: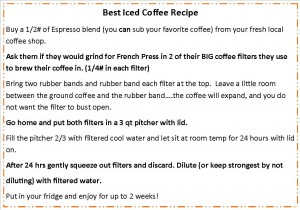 It made good coffee, but it involved work and we all know I'm inherently lazy. With International Delight Iced Coffee it's deliciousness in seconds. Open. pour. drink.
At our party we added whipped cream and cinnamon to it. I poured the International Delight Iced Coffee into ice cube trays and we use it as the ice as well as to blend into the coffee with the blender.
All three flavors are delicious! We've been buying it and sharing it with the workers who are helping get our neighbors house rebuilt after the fire. It's a refreshing drink that just keeps getting reviews.
I find it at Walmart. Pick up a carton in your favorite flavor and enjoy Iced Coffee at home at a fraction of the cost of those spendy coffee shops!
Get social with International Delight on Facebook and Twitter for more fun ways to enjoy International Delight Iced Coffee.
I wrote this review while participating in an In Home Party campaign by Mom Central Consulting on behalf of International Delight and received product samples to facilitate my party and review, and a promotional item to thank me for participating. All opinions are my own.