I remember being a kiddo and my mom using coupons. I carried that practice over into my own Mommy budget. While I'm no where near the extreme couponer you see on television and read about in the media, I do feel that coupons extend our budget and are the equivalent of throwing away good money.
You don't have to follow TLC's Extreme Couponing practices to benefit from using coupons. Using coupons doesn't require great effort and mega binders. They're about saving money on what you already buy, discovering a new product you might not try and extending the budget to splurge every now and again.
How you coupon is up to you. Some people keep the Smart Saver and Red Plum in tact with the date. I like to take it a step further and use a sticky note on the outside that outlines what coupons I can find in that weekly. If you're more organized clip and sort by category: dairy, beauty, cleaners, etc.
Nearing the middle of the month, I take another look at my coupons and notice expiration dates. This let's me know what I need to use and I can weigh how practical that coupon may or not be at that time. If I have a couple tubes of toothpaste, I'm apt to let the coupon go.
When the kiddos are acting bonkers and need something to focus on, I delegate coupons and challenge them to organize them alphabetically. I really love this method because it's all there at a glance!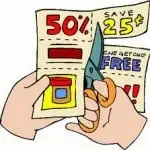 There are also many coupon sites where you can search and find coupons that you can print and use or use to save online. I'm finding more and more benefit from coupons sites like PromotionCode.org because they give me a heads up on trends, offer free shipping promotions on items I'm planning to buy and more.
As I plan to go home for Thanksgiving, I've searched for coupons to help me save money on the necessities. I found some great savings on car rentals that gave me a free upgrade so the kiddos will have some leg room as we travel between relatives. It's a win-win situation for us all and allows me extra money for gasoline and road trip snacks!
Regardless of which method works for you, couponing is personal preference. There are a variety of ways to apply coupons and discount codes and make your purchases savings at hand. Make the use of coupons a part of your next shopping trip, retail or online, and discover just how easy it is to save a little money.

Julee is the writer behind the blog, Mommy's Memorandum. She vents her emotions through flour and butter. While she realizes there are the tried and true endorphin-inducers like exercise, being thankful and eating healthy, she prefers to live in the fast lane: real butter, a new recipe with a gazillion calories and laughing until she sobs…and of course blogging. She's perky, quirky, dorky. A Utah native and NC transplant with an appetitie to taste the world, meet its desserts!