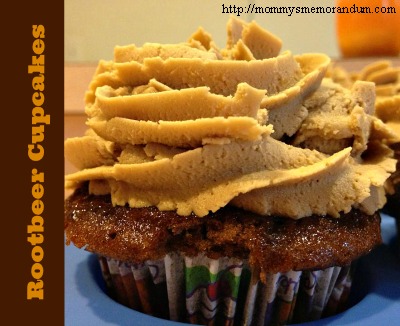 I had HUGE plans to fill the root beer cupcakes before icing them and turning them into "root-beer floats"… The problem with that was in order to fill them, I had to core them and I just could NOT bring myself to remove the yummy cake to put a filling in there.
I got started making a vanilla butter cream- but before I knew what I was going to do- I had the root beer concentrate in my hands and I was thinking "the more the merrier" as I poured.
For the butter-cream icing
2 sticks (1 cup) of butter (real butter- do NOT skimp out and use wimpy margarine here…)
5 cups of powdered sugar
3 T heavy whipping cream
3 T vanilla
1 T root beer concentrate
Cream butter in mixer. Slowly add powdered sugar. Mixture will be crumbly and dry. While continuing to mix, gradually add heavy cream, vanilla and root beer concentrate.
Mix until fluffy.
Using a rubber spatula, transfer to a piping bag and have fun!!