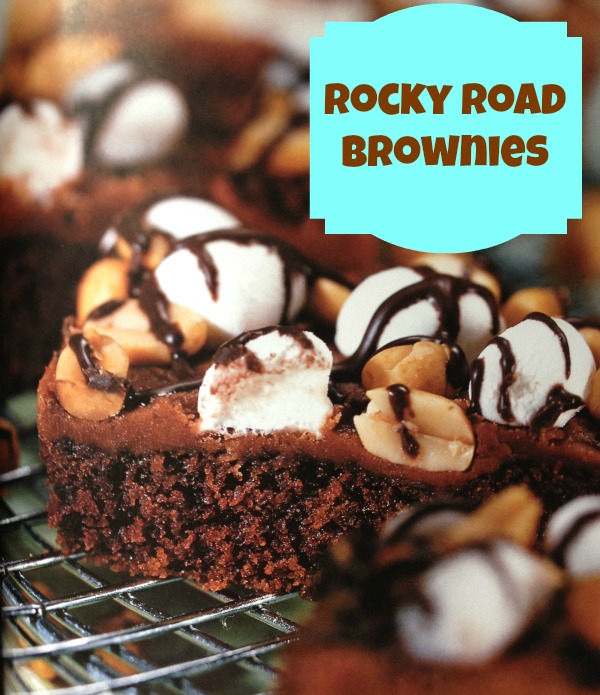 Rocky Road Brownies Ingredients:
2 cups all purpose flour
1 tsp baking soda
1/2 cup shortening
1/2 cup butter or margarine
1 cup strong, brewed coffee
1/4 cup unsweetened cocoa powder, sifted
2 cups granulated sugar
2 eggs
1 tsp vanilla extract
1/2 cup buttermilk
Rocky Road Brownies Frosting Ingredients:
1/4 cup milk
1/2 cup butter or margarine
2 Tbsp unsweetened cocoa powder, sifted
1 tsp vanilla extract
3-1/2 cups powdered sugar
Rocky Road Brownies Topping:
1 cup white, mini marshmallows
1/2 cup unsalted peanuts
3 squares semi-sweet chocolate, melted
Rocky Road Brownies Directions:
Preheat oven to 400 degrees F.
grease a 13×9 cake pan
In a bowl mix together flour and baking soda
In a large saucepan over medium heat, bring shortening, butter, coffee and cocoa to a boil, stirring constantly. Remove from heat and set aside to cool slightly.
When mixture has cooled, stir in sugar. Beat in eggs and vanilla. Gradually blend in flour mixture alternately with buttermilk until just incorporated. Spread evenly in prepared pan. Bake in preheated oven for 35 minutes or until a tester inserted in center comes out clean.
Rocky Road Brownies Frosting Directions:
In a sauce pan over low heat, heat milk, butter and cocoa, stirring constantly until steaming (not boiling). Remove from heat. Gradually and confectioner's sugar, beating until mixture is smooth and spreadable. Beat in vanilla. Spread frosting over warm cake.
Rocky Road Brownies Topping Directions:
Sprinkle marshmallows and peanuts evenly over cake. Bake 2 to 3 minutes longer, until marshmallows are slightly melted. Drizzle melted chocolate over top. Place pan on a rack to cool completely, then cut into squares.

Julee is the writer behind the blog, Mommy's Memorandum. She vents her emotions through flour and butter. While she realizes there are the tried and true endorphin-inducers like exercise, being thankful and eating healthy, she prefers to live in the fast lane: real butter, a new recipe with a gazillion calories and laughing until she sobs…and of course blogging. She's perky, quirky, dorky. A Utah native and NC transplant with an appetitie to taste the world, meet its desserts!