Sweet and Saltine,  Saltine Toffee or Christmas Crack this recipe for is really simple, made with ingredients you probably already have and is inexpensive but beyond that it's impressive and will have everyone dubbing you the BEST gift giver or hostess in all the Hostess World.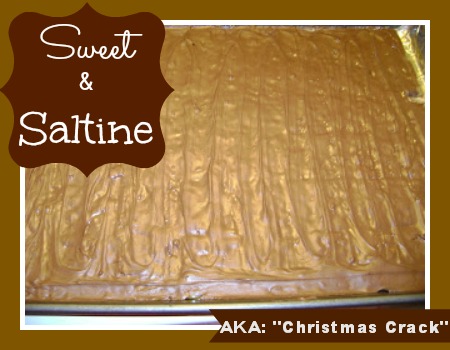 Christmas Crack
Sweet and Saltine–a clever name for the sensation of the taste buds kicking in as they experience a little bit sweet and a little bit salty in every bite.
It's Christmas Crack, named because you crack it apart, however, after your first taste, you'll also discover it's also ADDICTING. We're on our third batch in two days and we haven't even made any gifts with it…I keep hiding it, but we keep finding it!
Christmas Crack Recipe Ingredients:
3/4 cup brown sugar
1 cup butter
1 package chocolate chips or Hershey Kisses
3/4 cup chopped pecans(optional)
1 Cup Crushed Candy Canes (optional)
Christmas Crack Recipe Directions:
Preheat the oven to 400 degrees.
Line a 10″ x 15″ cookie sheet (I use a jelly roll pan because it has edges) with foil and lightly grease with butter. 
Cover the cookie sheet with a single layer of saltines.
Bring butter and brown sugar to a boil.  Boil for 4 minutes, stirring with a whisk.
Pour over the saltines, and try to spread it as evenly as possible.
Place in the oven and bake for 5 minutes. Upon removing the sugar mixture will be molten–be careful!
If your saltines shifted while in the oven, rearrange with a fork.
Allow to cool about 5 minutes.

Sprinkle the chocolate chips over the saltines and let sit for about 5 minutes to melt. Note: We have also placed one Hershey's Peppermint Kiss on each saltine for a variation of flavor.

Once melted spread chocolate evenly.  If desired, sprinkle on pecans or crushed candy canes and press lightly into the chocolate.
Allow to  cool and then transfer to refrigerator to harden.
Once it has hardened, break the candy into small pieces and place in containers.
WARNING: Christmas Crack is addictive.
Not only to EAT but to MAKE…my husband will even participate in this  kitchen creation!
Rate My Blog @ Top Mommy Blogs


Julee is the writer behind the blog, Mommy's Memorandum. She vents her emotions through flour and butter. While she realizes there are the tried and true endorphin-inducers like exercise, being thankful and eating healthy, she prefers to live in the fast lane: real butter, a new recipe with a gazillion calories and laughing until she sobs…and of course blogging. She's perky, quirky, dorky. A Utah native and NC transplant with an appetitie to taste the world, meet its desserts!