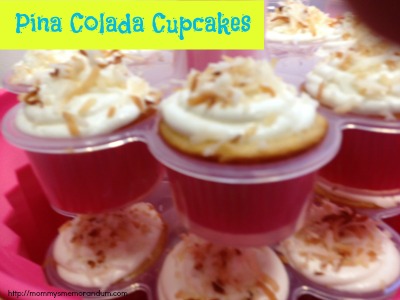 Pina Colada Cupcakes Ingredients:
1 box Pineapple Supreme cake mix
1/3 cup mediterranean oil (vegetable oil will also work)
Pina Colada Cupcakes Directions:
Preheat oven to 335 degrees
Combine cake mix, oil, eggs and rum.  Stir in pineapple and coconut until mixed thoroughly.  Fill 24 cupcake liners 3/4 full.  
Bake for 20 minutes or until centers are set and bounce back when touched.

Julee is the writer behind the blog, Mommy's Memorandum. She vents her emotions through flour and butter. While she realizes there are the tried and true endorphin-inducers like exercise, being thankful and eating healthy, she prefers to live in the fast lane: real butter, a new recipe with a gazillion calories and laughing until she sobs…and of course blogging. She's perky, quirky, dorky. A Utah native and NC transplant with an appetitie to taste the world, meet its desserts!