Chicken is a staple at our house. It can be prepared so many ways and so many textures can be created. It's a great protein. I serve it grilled, BBQ, baked, fried, marinated and more. This recipe is easy and offers great flavor. The "gravy" is tangy and delicious drizzled over the chicken or served on rice or mashed potatoes.
Mustard-Maple Glazed Chicken Recipe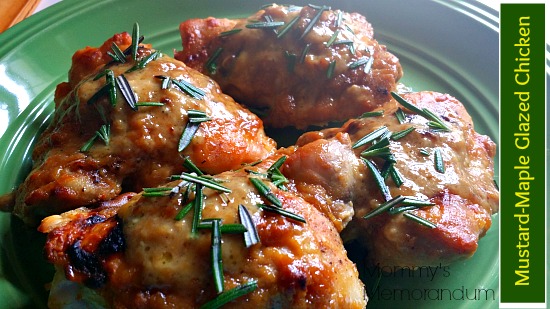 Mustard-Maple Glazed Chicken Recipe Ingredients:
4 chicken breasts (you can use wings, legs, thighs, etc.)
1/2 cup Dijon Mustard
1/4 Maple Syrup
1 Tbsp Rice Vinegar
salt and pepper, to taste
Fresh Rosemary
Mustard-Maple Glazed Chicken Recipe Directions:
1. Grease an 8″x8″ pan (I line mine with aluminum foil and spray)
2. Place chicken in greased pan and sprinkle with salt and pepper, to taste.
3.  Mix together mustard, maple syrup, and rice vinegar and pour over chicken.
4. Bake at 450 degrees for 40 minutes (or until temperature of chicken reaches 165 degrees)
5. About half way through bake time, spoon mixture from pan over chicken again.
6. Remove from oven and sprinkle with fresh Rosemary
7. Serve alone, or over rice.

Julee is the writer behind the blog, Mommy's Memorandum. She vents her emotions through flour and butter. While she realizes there are the tried and true endorphin-inducers like exercise, being thankful and eating healthy, she prefers to live in the fast lane: real butter, a new recipe with a gazillion calories and laughing until she sobs…and of course blogging. She's perky, quirky, dorky. A Utah native and NC transplant with an appetitie to taste the world, meet its desserts!