This post brought to you by Arby's. All opinions are 100% mine.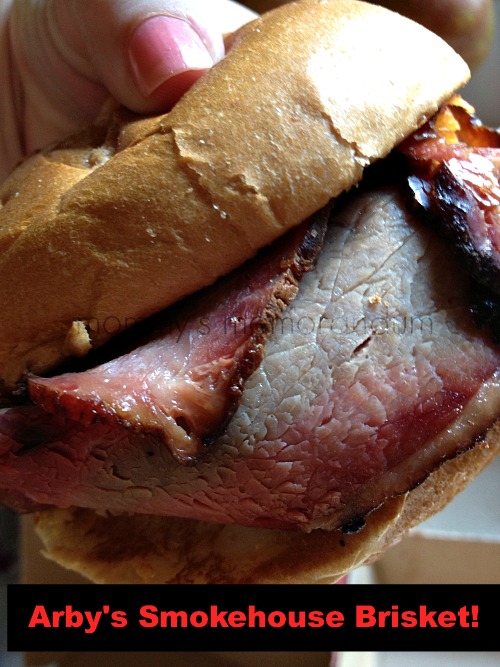 Howard Wolowitz, the Big Bang Theory nerd whose schtick with women involves a dinner enjoying his mother's brisket, is celebrating now because Mom's not the only one with real, smoky tenderness in their brisket. I'm telling you, Mrs. Wolowitz's title of Brisket Expert may be in jeopardy after you try Arby's Smokehouse Brisket.
Sure, Mrs. Wolowitz's brisket is typically served on a plate, unless it's Thanksgiving, when she makes Tur-briske-fil (which is turkey stuffed withbrisket stuffed with gefilte fish), but that slab of brisket gets new life with Arby's where attention is in detail to seemingly every bite!
Brisket piled high, covered with delicious Gouda cheese, topped with crispy onions, enhanced with BBQ sauce and mayonnaise and all nestled between a toasted, bakery-style bun. The bun even has a cross hatch that gives it that homestyle bakery feel.
The suggested retail price for the Smokehouse Brisket is $5.29.
It's brisket done right…smoked low and slow–at least 13 hours. Arby's does the work so the Smokehouse Brisket is ready when you are!
I love that it's a break from the ordinary fast food and tastes like homemade!
I've been eating at Arby's for three decades. I appreciate more, now than ever, that they are a company built on one simple foundation: quick-service, hot, roast-beef sandwiches. The Smokehouse Brisket is flavor you don't expect at a fast-food chain. It's a delightful change from burger doodles.
I do wish, rather than the mayonaise, they'd opted for some pizzazz and included their famous horsey sauce instead!
The new Arby's Smokehouse Brisket is available for a limited time and I wouldn't be surprised if you saw Mrs. Wolowitz feasting on the delicousiness while you're picking up your own smoky, tender Smokehouse Brisket.
Have you tried the Arby's Smokehouse Brisket? If not, what do you love about brisket that makes you excited to try the new Smokehouse Brisket sandwich!
Find an Arby's near you and experience what Mrs. Wolowitz eats while her own brisket's in the oven!
Nutritional Info – Arby's Smokehouse Brisket sandwich (203g)
Calories – 610 (from Fat – 320)
Fat – 35g (Saturated Fat – 12g)
Sodium – 1230mg
Carbs – 42g (Sugar – 7g)
Protein – 35g