Make meatloaf night something the kiddos will talk about with this meat-loaf mug recipe.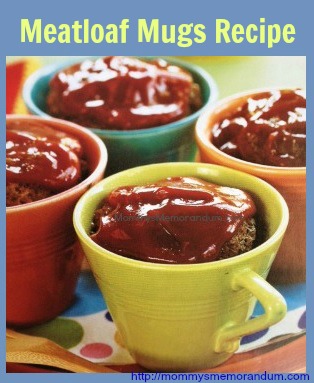 Ingredients:
1 pound ground beef, extra lean
1/2 cup quick-cooking oats
1 large egg
1 (5.5 oz) can vegetable juice
1/4 cup green onions, finely chopped
1/4 cup carrots, finely chopped
1/2 tsp. salt
1/4 tsp. pepper
1/4 cup ketchup
Directions:
Stir together beef, oats, eggs, vegetable juice, onions, carrots, salt and pepper in a big bowl
Divide mixture evenly into four portions.
Shape each portion into a ball.
Place each ball into an 8-oz. microwave-safe coffee mug
Line the bottom of the microwave with a sheet of waxed paper in case juices from the meat loaves bubble out.
Place mugs in a circle on top of the waxed paper.
Cover mugs with another big sheet of waxed paper.
Microwave for 11-minutes on medium-high.
Check for doneness by cutting into meatloaves with a knife and fork. If any are still pink inside, microwave them for 30-seconds more and check again for doneness.
Carefully remove each mug from the microwave using oven mitts.
Divide ketchup evenly on top of the meat loaves; cover with waxed paper and let stand 2-minutes.
Excerpted fromTime for Kids: Kids int he Kitchen Cookbook © 2013 Time Home Entertainment. May not be reprinted without publisher permission

Julee is the writer behind the blog, Mommy's Memorandum. She vents her emotions through flour and butter. While she realizes there are the tried and true endorphin-inducers like exercise, being thankful and eating healthy, she prefers to live in the fast lane: real butter, a new recipe with a gazillion calories and laughing until she sobs…and of course blogging. She's perky, quirky, dorky. A Utah native and NC transplant with an appetitie to taste the world, meet its desserts!