We seek to be more kind and gentle to our body and our environment. Lately we've been using  Le Savonnier Marseillais Organic  Liquid Soap, an
all-natural liquid soap
. This soap is made with all natural ingredients, including olive oil and is gentle on everything from skin to laundry.  It's biodegradable, eco-friendly, has no added colorants or solvents and has  a subtle scent.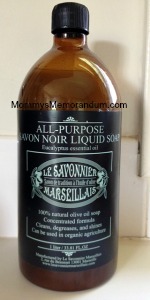 When the soap arrived, I put it on the shelf. Then, Li'l Man came to me telling me he "itched everywhere and what were these bumps?" Turns out it was his welcome card from the woods of North Carolina where he played–Poison Oak. We didn't have any poison oak treatment soap and he needed immediate relief. I noticed the Le Savonnier Marseillais Organic Soap had eucalyptus and that is good to stop itching, so I bathed him, using the soap. He felt great relief. It didn't cure the poison oak–it still remained, but it did lessen the itch and left him smelling clean and not like a tube of medicine.
Le Savonnier Marseillais has a variety of uses: washing hands, kitchen dishes, surface cleaning and washing cars. We've bathed our dog, Bailey Mae with it–gentle enough for pets!
I was really impressed by the grease cutting power Le Savonnier Marseillais packs. It tackled the greasy film that seemed to be everywhere where when we recently moved. It took the "stick" off of doors and countertops and even tackled the kitchen lighting fixtures.
It's easy to us, the bottle suggests diluting it using 2.5 tablespoons of soap to 1.3 gallons of water. It's non-abrasive so it will be gentle on any surface.
There's not going to be a lot of bubbles, in fact  when I use the diluted soap to wash my hands, there is no bubbles. It looks like water, but I can feel and smell the clean!
I love that my hands are soft after cleaning with Le Savonnier Marseillais, but what I love even more is that this one bottle is so versatile I can de-clutter my cleaning closet and make room for something more fun than cleaners!
From poison oak relief to every surface in my house, Le Savonnier Marseillais is versatile and will help your house be clean and smell fresh!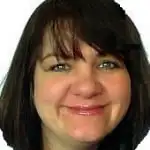 Julee is a quirky, dorky, North Carolina Transplant with an appetite to taste the world, meets its desserts and blog about them. When she's not behind the computer you can find her playing with her family, reading a good book, being a Bon Jovi fangirl and celebrating the little things.
Disclosure of Material Connection: I received one or more of the products or services mentioned above for free in the hope that I would mention it on my blog. Regardless, I only recommend products or services I use personally and believe will be good for my readers. I am disclosing this in accordance with the Federal Trade Commission's 16 CFR, Part 255: "Guides Concerning the Use of Endorsements and Testimonials in Advertising.".Julee Morrison

Julee is the writer behind the blog, Mommy's Memorandum. She vents her emotions through flour and butter. While she realizes there are the tried and true endorphin-inducers like exercise, being thankful and eating healthy, she prefers to live in the fast lane: real butter, a new recipe with a gazillion calories and laughing until she sobs…and of course blogging. She's perky, quirky, dorky. A Utah native and NC transplant with an appetitie to taste the world, meet its desserts!