Meatballs are one of our favorites. We don't indulge often as they tend to be heavy and greasy. If you're looking for a lighter, leaner alternative to meatballs made with beef, this recipe is a home run!
It's the only meatball recipe I've ever seen that bakes the meatball rather than fries the meatball. The flavor is excellent with oregano and basil to enhance any dish, or serve alone.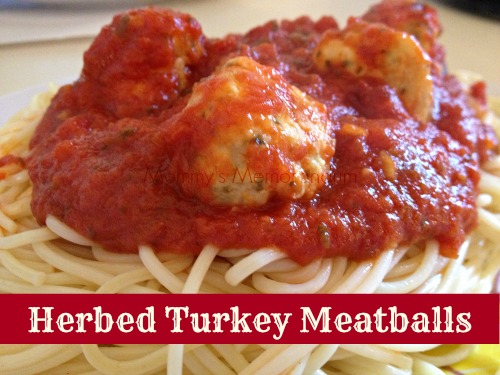 Herbed Turkey Meatballs Recipe Ingredients:
1/4 cup bread crumbs
1-1/2 tsp basil leaves
1 tsp garlic powder
1/2 tsp oregano
1/2 tsp salt
1/4 tsp pepper, ground
1 pound ground turkey or ground chicken
1 egg, lightly beaten.
Herbed Turkey Meatballs Recipe Directions:
Prehead oven to 400 degrees.
Mix bread crumbs and seasonings in a large bowl.
Add turkey and egg; mix well.
Form mixture into one inch meatballs.
Place on foil lined 15x10x1 inch baking pan
Bake 15-20 mintues, or until cooked through.
Drain well.
Serve over cooked pasta with your favorite pasta sauce if desired.
Makes about 30 meatballs.