I love this time of year. The kiddos will be heading back to school in ten days and then I'll have more time to entertain myself. Fall also brings sewing into my days. I typically don't sew that often but between now and Halloween, my sewing machine runs like crazy.
In November I am going home for the first time in eleven years. My children will meet eight cousins for the first time. We will have our first holiday with my family and I'm giddy with excitement!
As part of the celebration we wanted to do something fun. Something that is memorable and will be a keepsake for this momentous occasion.  Over the weekend the girls and I crafted a design and created several shirts that we thought might be fun. In the end, only one design would be worthy.
So…between now and November, we'll be making eleven shirts, all the same. One for each of the cousins.
Here's what we're making: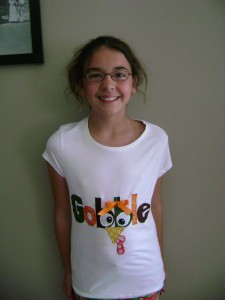 It's going to be a hoot with all the cousins getting their "Gobble" on for Thanksgiving dinner!
But before that happens, I think I'm entering it in the State Fair.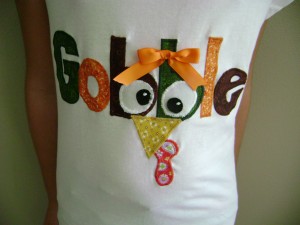 Julee is the writer behind the blog, Mommy's Memorandum. She vents her emotions through flour and butter. While she realizes there are the tried and true endorphin-inducers like exercise, being thankful and eating healthy, she prefers to live in the fast lane: real butter, a new recipe with a gazillion calories and laughing until she sobs…and of course blogging. She's perky, quirky, dorky. A Utah native and NC transplant with an appetitie to taste the world, meet its desserts!