GEODEO, Natural Deodorant Plus Detox Complex, is making underarms beautiful for summer. It helps fight daily build up of impurities with a proprietary blend of ingredients, offers 24 hour protection without harmful effects of aluminum, parabens, propylene glycol and silicone. Instead GEODEO uses volcanic minerals and Icelandic algae to fight the impurities found in the body. Apply it to the underarms and help deeply purify pores!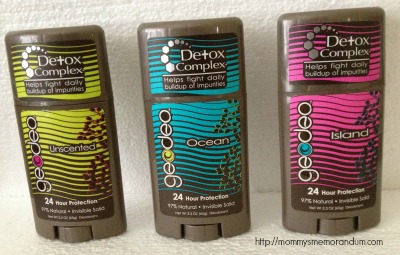 97% Natural Deodorant!
It glides on clear and provides 24 hours of protection without the harmful effects. In fact it works to purify pores from a multitude of environmental contaminants found in the body. It's a deodorant that protects without blocking pores. GEODEO allos pores to excrete toxins naturally through the process of sweating. Active enzymes in GEODEO help neutralize body odors.
Did you know: 10% of the population cannot use conventional deodorants for one reason or another. The perfumes, used to mask odor or the antiperspirant ingredients act as allergens, causing a rash or irritation. Those worries are gone with GEODEO. In fact, it's perfect for men and women with sensitive skin and allergen-free products and people seeking a healthy alternative or better lifestyle.
GEODEO Natural Deodorant is a Greener deodorant alternative
The manufacturing process emits up to 50% less greenhouse gases than chemically-derived deodorants.
It's sustainable due to the specifically formulated to be 97% naturally derived.
It softens skin–bamboo and aloe and Vitamin E are added to help nourish skin.
It's cruelty free, GEODEO products are never tested on animals.
Made in the USA, manufactured and distributed from Florida.
GEODEO natural deodorant is available in three scents: Island, Ocean or Unscented.

I was really surprised at how easily the GEODEO glides on. It offers protection against stink you can count on. Since I have been using it I notice the skin in my underarms is much softer and there is very little build up from past deodorant use.
Learn more and connect with GEODEO on Facebook and discover what clean really feels like.
GEODEO is available at retailers including: Kinney Drugs, All Florida Whole Food Markets, Independent Health Food Stores, Walmart Canada and Meijer. You can find GEODEO online at mygeodeo.com, amazon.com, drugstore.com and vitacost.
Isn't it time you rethought you deodorant? Go all natural with GEODEO, all natural deodorant!

Julee is the writer behind the blog, Mommy's Memorandum. She vents her emotions through flour and butter. While she realizes there are the tried and true endorphin-inducers like exercise, being thankful and eating healthy, she prefers to live in the fast lane: real butter, a new recipe with a gazillion calories and laughing until she sobs…and of course blogging. She's perky, quirky, dorky. A Utah native and NC transplant with an appetitie to taste the world, meet its desserts!