One of my favorite books of all time is coming to the big screen thanks to Disney! I am so excited for Alexander and the Terrible, Horrible, No Good, Very Bad Day to arrive in theaters October 10!
I love the book, written by Judith Viorst. For those who aren't familiar with the adventure, from the moment Alexander wakes up his day begins sliding into bad. Gum in his hair, tripping on a skateboard, a sweater in the sink, nothing in the cereal box for him (the book was written in the early 1970s when those cereal box toys were the thing to covet)! There's no window for him in the carpool, his teacher dislikes his drawing of an invisible castle and he is called out for singing too loudly. His day continues like this all the way until bedtime when he tells his mother he wants to move to Australia!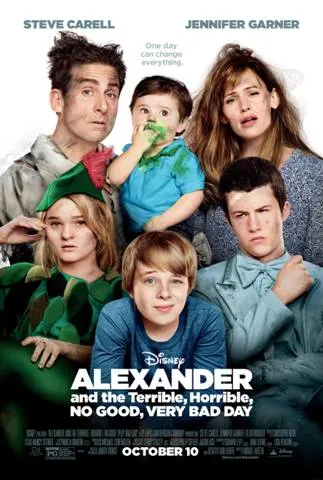 Now Disney brings the book to life as we follow 11-year old Alexander, played by Ed Oxenbould, as he experiences the most terrible, horrible day of his young life. He shares his misadventures with Mom (Jennifer Garner) and Dad (Steve Carell) and they all find themselves living  through their own terrible, horrible, no good, very bad day. Anyone who says there is no such thing as a bad day just hasn't had one.
"Alexander and the Terrible, Horrible, No Good, Very Bad Day," directed by Independent Spirit Award-winner Miguel Arteta ("The Good Girl," "Cedar Rapids," "Youth in Revolt") from a screenplay by Rob Lieber, is a 21 Laps Entertainment/Jim Henson Company production.
The film hits theaters nationwide Oct. 10, 2014.
Like ALEXANDER on Facebook: Facebook.com/DisneyAlexander
Follow ALEXANDER on Twitter: @DisneyPictures

Julee is the writer behind the blog, Mommy's Memorandum. She vents her emotions through flour and butter. While she realizes there are the tried and true endorphin-inducers like exercise, being thankful and eating healthy, she prefers to live in the fast lane: real butter, a new recipe with a gazillion calories and laughing until she sobs…and of course blogging. She's perky, quirky, dorky. A Utah native and NC transplant with an appetitie to taste the world, meet its desserts!