Finding the perfect bathing suit is a grueling process, it is probably the only shopping event of the year that I actually dread.  Searching through racks of swimwear that range from ultra-skimpy to frumpy is frustrating and usually leaves me feeling utterly depressed. Since I have entered motherhood my body just isn't the same as it was ten years ago and although the mirror is telling me I can't wear that string bikini anymore, my ego is not quite ready to banish my bikini.  This year Essential Swimwear has saved me from this dreaded experience.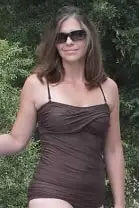 The Chocolate Brown Twist Front Top has rapidly become my go-to swimsuit this year. With its retro-style look, and its magical ability to hide my flaws, I feel confident and sexy as I soak up the rays.  The top was designed using extra fabric which makes it perfect for my long torso. The additional fabric is also great because it creates ruffled pleats around my waist which helps to camouflage my not so tight middle.  The twist top design accentuates my curves and creates an optical illusion that I'm slightly bustier without a lot of additional padding.  The top also has adjustable halter straps that can be worn multiple ways which adds interest to the back of the suit making it even more unique.
The suit came with the high waist bottoms. These bottoms are designed with a three inch band which provides additional tummy control. If you don't need the added control, you can simply fold the band down giving the suit more of a hipster look.  Initially I wasn't fond of the idea of the high waistband and I assumed that I would be wearing the bottoms with the three inch band folded down.  Much to my surprise, the high waist bottoms are extremely comfortable. The three inch band provides the added tummy control without making the suit look frumpy, and the bottoms blend perfectly with the top to create a one-piece look with the convenience of a two-piece.
Essential Swimwear provides quality swimwear at an affordable price, and for a limited time Mommy's Memorandum readers will receive a 10% discount by entering the coupon code Mommy10.
One lucky Mommy's Memorandum Reader will receive
$50.00 towards the purchase of any swimwear item of their choice.
Enter below using the Rafflecopter Widget.
US and Canada; 18+
Ends 7/21
"Natalie is a mother of two energetic boys ages 5 and 7. She spends her weekends working outside in the yard and loves DIY home improvement projects. She enjoys playing sports with her children and dreams of becoming a professional photographer..
Disclosure of Material Connection: I received one or more of the products or services mentioned above for free in the hope that I would mention it on my blog. Regardless, I only recommend products or services I use personally and believe will be good for my readers. I am disclosing this in accordance with the Federal Trade Commission's 16 CFR, Part 255: "Guides Concerning the Use of Endorsements and Testimonials in Advertising."

Julee is the writer behind the blog, Mommy's Memorandum. She vents her emotions through flour and butter. While she realizes there are the tried and true endorphin-inducers like exercise, being thankful and eating healthy, she prefers to live in the fast lane: real butter, a new recipe with a gazillion calories and laughing until she sobs…and of course blogging. She's perky, quirky, dorky. A Utah native and NC transplant with an appetitie to taste the world, meet its desserts!