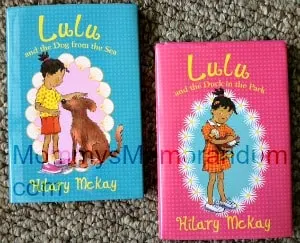 In Lulu and the Duck in the Park, readers fall in love right from the beginning. Lulu loves animals, just like my children. When Lulu finds a duck egg that has rolled out of its nest, she takes it to class to keep it safe. Lulu isn't allowed to bring pets to school. But she's not really breaking the rules because it's just an egg. Surely nothing bad will happen. The book is written in third-person narrative allowing a dramatic read and comedy to unfold.
Reading this first book of Lulu, left us wanting more, so we opened the cover of Lulu and the Dog from the Sea. We discover Lulu still loves animals when Lulu goes on vacation, she finds there's a stray dog living on the beach. Everyone in the town thinks the dog is trouble. But Lulu is sure he just needs a friend. And that he's been waiting for someone just like her. As the story unfolds we were delighted at the fact the dog thief turned into a brave hero and loyal friend. There were a lot of truths about vacation and animal companions that I don't think my children really considered until we read this book.
These books are delightful and kept our attention. The endings are so wrapped up as I would have liked, but they seemed to occupy my children's hearts and minds.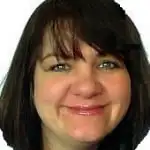 Julee is a quirky, dorky, North Carolina Transplant with an appetite to taste the world, meets its desserts and blog about them. When she's not behind the computer you can find her playing with her family, reading a good book, being a Bon Jovi fangirl and celebrating the little things.
Disclosure of Material Connection: I received one or more of the products or services mentioned above for free in the hope that I would mention it on my blog. Regardless, I only recommend products or services I use personally and believe will be good for my readers. I am disclosing this in accordance with the Federal Trade Commission's 16 CFR, Part 255: "Guides Concerning the Use of Endorsements and Testimonials in Advertising.".Julee Morrison

Julee is the writer behind the blog, Mommy's Memorandum. She vents her emotions through flour and butter. While she realizes there are the tried and true endorphin-inducers like exercise, being thankful and eating healthy, she prefers to live in the fast lane: real butter, a new recipe with a gazillion calories and laughing until she sobs…and of course blogging. She's perky, quirky, dorky. A Utah native and NC transplant with an appetitie to taste the world, meet its desserts!