Growing up in the rural Appalachian Mountains of North Carolina ordering pizza was unheard of.  Occasionally my mom would stop by the local pizza place and pick up an uncooked pizza that she could pop in the oven when she got home. This is as close as we got to ordering pizza.  Imagine my excitement when I moved to a neighborhood where I could actually order a pizza and have it delivered right to my door.  I am not sure if this where my love for pizza began, but even now I can't think of any food that I enjoy more.   Like many, we struggle to stay within our tight budget, and it is a rare occasion when we go out to eat; however, once a month I splurge and I order pizza for our family movie night.  I look forward to these nights more than anyone else in my family. Now, with the help of CouponSnapshot, we can have pizza night more often because of the money I save using Domino's Pizza Coupons and Online Coupons.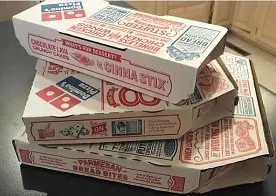 If you haven't tried a Domino's Pizza lately you are truly missing out on a great taste sensation.  Dominos has revamped their pizza dough recipe, created new specialty pizzas, added a couple of tasty sides, and expanded their menu to include other Italian favorites like Oven Baked Sandwiches, and Pasta Bowls.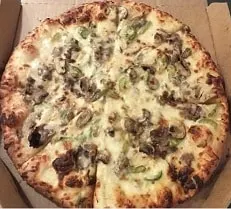 My favorite is the Pacific Veggie Pizza; it begins with Domino's signature thin crust and is covered with roasted red peppers, spinach, onions, mushrooms, tomatoes, and black olives, topped with mozzarella, provolone and feta cheeses. My husband loves the Philly Cheese Steak Pizza which is made with tender slices of steak, onions, green peppers, mushrooms, provolone cheese and American cheese on a cheesy provolone crust.  My two little ones can't get enough of Dominos new Stuffed Cheesy Bread, they prefer the plain cheese, but you can also order the cheesy bread stuffed with Bacon & Jalapeno or Spinach & Feta Cheese.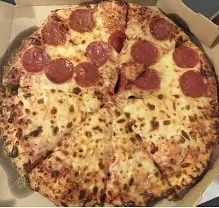 Domino's understands that families don't always agree on the same toppings, which is why I love that you can order a pizza with two different toppings on each half of the pizza for the same price as a one-topping pizza. This is the perfect solution for our picky eater. We usually order a large one-topping pizza with half pepperoni and half bacon; everyone wins!
With school starting right around the corner, hectic schedules filled with activities won't be too far behind. Don't forget about Domino's Pizza, it is the perfect alternative to the traditional fast food, and have something on the menu to satisfy everyone. Use Domino's Pizza Coupons and Online Coupons to find the best online deals, and if you are looking to save a little more, choose Carry-out instead of Delivery, not only can you find better coupon deals for Carry-out but you will also eliminate the delivery fee.  You can place your order over the telephone, or order online and your pizza will be ready for pick-up within a matter of minutes.
"Natalie is a mother of two energetic boys ages 5 and 7. She spends her weekends working outside in the yard and loves DIY home improvement projects. She enjoys playing sports with her children and dreams of becoming a professional photographer..
Disclosure of Material Connection: This post is brought to you by Online Coupons. Regardless, I only recommend products or services I use personally and believe will be good for my readers. I am disclosing this in accordance with the Federal Trade Commission's 16 CFR, Part 255: "Guides Concerning the Use of Endorsements and Testimonials in Advertising."