"I participated in an Ambassador Program on behalf of Mom Central Consulting for Pledge. I received a product sample to facilitate my review and promotional item as a thank you for participating."
Wood floors are character. They are beautiful and rich in color. My first house was built in 1954 and I remember painting one of the rooms and when it came time to replace the worn, stained carpet, we discovered beautiful hardwood floors underneath. I've watched my mother's home transform from brown variegated shag to luxurious hardwood floors giving the space a warm feel.
Now the weather winds down and cold, crisp mornings and evenings have us gathering together to relax and enjoy one another. Hot Cocoa, curling up under a blanket and watching a favorite television show, or simply watching the leaves twirl from the trees to rest on the ground. My kiddos entertain by gliding across the floors in their socks and we wallow on rugs imitating wrestling moves. It's time spent well together, but our wood floors have embedded the memories in scuffs, dirt and build up that leaves them looking far less than luxurious.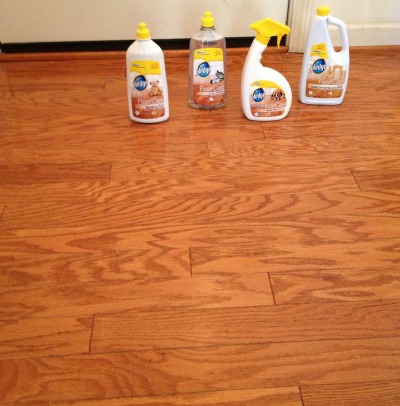 We were sent Pledge® FloorCare Wood solutions to help us tackle the messes the day-to-day living tracks onto our wooden floors. The Pledge® product line features four distinct product options that handle everything from simple spot cleaning and upkeep to conditioning and polishing, all while offering a long-lasting protection and restoration.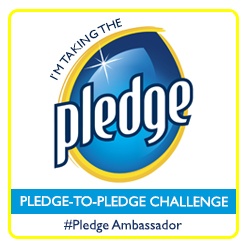 As a Pledge® Ambassador I will be doing a "before and after" experiment to see if Pledge® really does deliver. Currently, our hardwood floors are in relatively good shape. For our test, we are doing the foyer area. It receives our guests, play-mates and gets a lot of action. It's the first place we tackle when I tell the kiddos to "Clean like Bon Jovi's coming!"
Miss M volunteered to try it first. We read the instructions on the products and ready and used them according to the label instructions.
She started with the Pledge® FloorCare Wood Concentrated Cleaner. It gently removes dirt and grime while restoring floor's natural shine. It's made with almond oil to moisturize wood and restore its natural beauty, and it leaves a fresh scent behind. The concentrated formula makes up to 16 gallons of cleaning solution.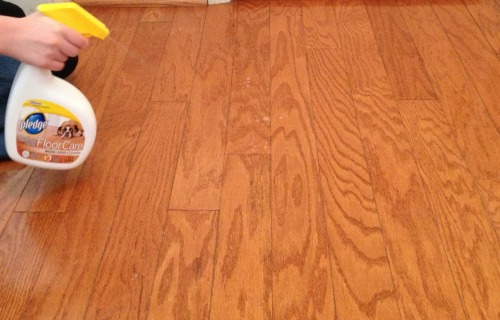 From there, Miss M inspected the floor and then used the Pledge® FloorCare Wood Trigger. It is a ready-to-use formula designed specifically for spot cleaning.  She used it in an area that needed a little extra TLC. Its advanced formula cleans, shines, restores and protects—with no dulling, oily residue—leaving a fresh citrus scent behind.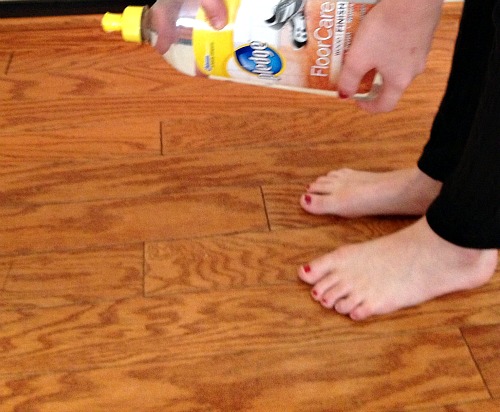 She finalized the process with the Pledge® FloorCare Wood Finish. It goes beyond what you get from other floor cleaning products—this premium finish provides a beautiful, transparent, long-lasting shine and stands up to the wear of heavy traffic without yellowing. It can protect hardwood floors and help prevent dirt from getting trapped in floor grooves and indentations, making cleaning much easier.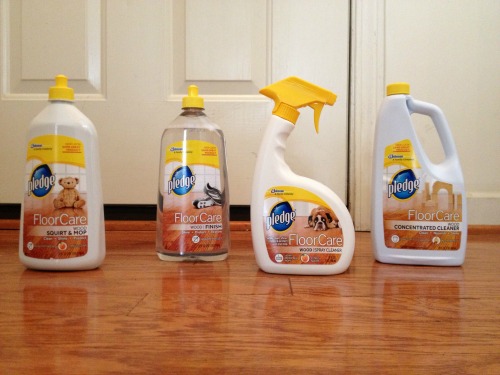 The results were outstanding! The floors have such a beautiful shine to them. I love that they reflect the Pledge® floorcare products spectacularly! It was easy enough for my nine-year old to complete the task on her own and she is incredibly proud.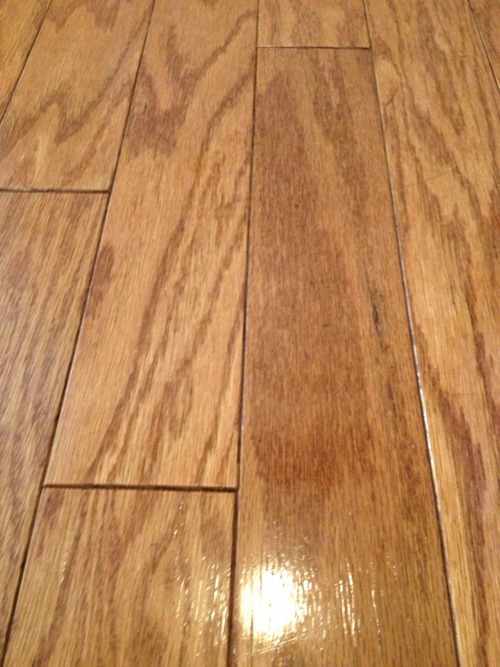 We just can't get over the shine!
AVAILABILITY & PRICE:
Pledge® FloorCare product line is available in the cleaning aisle of Wal-Mart, massmerchandise stores as well as food and drug stores nationwide.
• Pledge® FloorCare Wood Concentrated Cleaner has a suggested retail price is $5.49.
• Pledge® FloorCare Wood Squirt & Mop has a suggested retail price is $4.99.
• Pledge® FloorCare Wood Trigger has a suggested retail price is $5.49.
• Pledge® FloorCare Wood Finish has suggested retail price is $6.49.
With the holidays approaching, I encourage you to deck the  hardwood halls with  Pledge® FloorCare and take the 30 day challenge and see the difference.
For more information on the entire lineup of Pledge® products, please visit www.Pledge.com.