A few years back, I discovered
Earth Footwear
. It's been my Spring and Summer choice ever since. I can't get over the comfort! With Spring arriving tomorrow, the them "New Year, New Wardrobe, New Earth" is perfect. Introducing their Spring and Summer collection with the "Positive heel"!
Contemporary designs. Contemporary comfort. Everyday value.  It's Earth®. A modern collection of dress casual footwear, grounded in the ideals of promoting a healthy lifestyle. From dress styles and wedges, to casual styles, to everything inbetween, newEarth® styles deliver remarkably against their value with a comfort footbed that delivers wellness into every step.  Earth®. Step Into Wellness! 
When my Earth footwear arrived, I was really surprised. While my DNA is genetically fused to make me squee over shoes, wearing them is a whole other thing. I prefer bare feet. I stepped into the Earth Sandal and had a change of mind. I asked Charlotte the Great, "How can something this cute be SO darn comfortable?" It was like standing on fluffy clouds.
I was sent the Wisteria in Platinum:
Charlotte the Great thought they looked more like her than me, which is when I reminded her that regardless, they were in MY size not hers!
We both cooed about the color. It is perfect for spring and summer. The color works well with pinks, blues, browns and more. We took them shopping with us to see how they would fit in with the new spring fashions and colors. They're keepers…so many options with this shoe and style.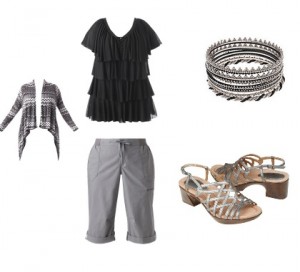 The new Earth collection is all less than $100 with prices ranging from $70-$99. They are made of real leather and outstanding quality– and I've worn my first pair for about five years now–up and down the Vegas Strip, hiking, shopping, camping and more. They're still extremely comfortable
The heel is a perfect compliment. A slight lift, but nothing that will have your feet complaining.
I dare you to find another pair of sandals with such comfort. It's alien technology with the cushioned foot bed, padded heel and reinforced arch support.
The new Earth@ does not have "negative" heel technology BUT rest assure, the "negative" heel shoes live strong under it's original name, Kalso Earth Shoes. Learn more and connect with the brand by liking Earth on Facebook. 
And don't forget to enter to win a trip to a Special Place on Earth Sweepstakes where you can win a trip, free shoes and even cash!
Only Earth Footwear offers all day comfort with:
A padded heel area to displace shock
A reinforced arch support to stabilize foot
A multi-density latex cushioning layer for extra support