I received My Little Pony: A Very Minty Christmas DVD in order to facilitate an honest review.
MY LITTLE PONY: A VERY MINTY CHRISTMAS

It was the 1980's when all things were "rad" and the original My Little Pony was the rage from 1983 to 1995 and inspired animated specials, an animated feature length film, and four animated television series. It's still a brand that's going strong, having been a favorite of our now 19 year old when she was small and still a favorite with Miss M!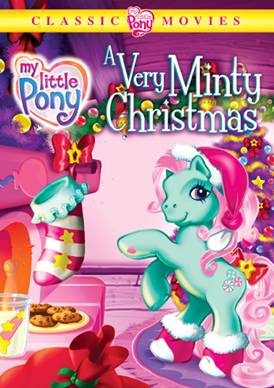 This holiday, grab the tinsel and stockings! Just in time to celebrate with My Little Pony: A Very Minty Christmas releasing on DVD October 8, 2013 from Shout! Factory Kids in collaboration with Hasbro Studios! Originally released in 2005, A Very Minty Christmas is the first film to be released from Shout! Factory's new My Little Pony Classic Movies reissue program, which will make favorite titles available to fans once again.
The "Here Comes Christmas Candy Cane" is an important part of Ponyville — it's the beacon that shows jolly old Santa Claus the way to the town as he makes his holiday rounds each year. But when Minty accidentally breaks it, uh-oh! It looks like Ponyville is destined to have a bleak holiday season. Minty is determined to do anything to save Christmas for her Pony friends while they, in turn, band together to try and cheer up their despondent friend. Together, they all discover that Christmas can come anyway, wrapped in the love of good friends and the oversized heart of one little clumsy, minty-green Pony!
The My Little Pony brand has been beloved for three decades, and is now more popular than ever. My Little Pony: A Very Minty Christmas is a gift everypony will love!
Hasbro Studios is the Los Angeles-based entertainment division of Hasbro, Inc. (NASDAQ: HAS). The studio is responsible for entertainment brand-driven storytelling for the company across television, film, commercial productions and short-form. It develops, produces and distributes TV shows based on Hasbro's world class brands, including TRANSFORMERS, MY LITTLE PONY, LITTLEST PET SHOP and FAMILY GAME NIGHT. Many of these shows air on Hub Network, a U.S. television network for kids and their families, that is a joint venture between Hasbro and Discovery Communications (NASDAQ: DISCA, DISCB, DISCK). Hasbro Studios shows can also be seen on networks in more than 170 countries globally.  Since its formation in 2009, the studio has received seven Daytime Emmy wins and 16 nominations.  On the film side, the studio is developing and producing a number of features based on Hasbro's brands, including TRANSFORMERS 4 (Paramount), STRETCH ARMSTRONG (Relativity Media) and CANDY LAND (Sony).  The studio team also oversees the production of commercials that feature Hasbro's brands as well production of short-form content that can be seen on all of the major digital and social media platforms globally.
Shout! Factory, LLC is a diversified multi-platform entertainment company devoted to producing, uncovering, preserving and revitalizing the very best of pop culture. Founders Richard Foos, Bob Emmer and Garson Foos have spent their entire careers sharing their music, television and film favorites with discerning consumers the world over. Shout! Factory's DVD and Blu-Ray™ offerings serve up feature films, classic and contemporary TV series, animation, live music and comedy specials in lavish packages crammed with extras.  Shout's audio division boasts GRAMMY®-nominated box sets, new releases from storied artists, lovingly assembled album reissues and indispensable "best of" compilations.  In addition, Shout! Factory maintains a vast digital distribution network which delivers video and audio content to all the leading digital service providers in North America.  Shout! Factory also owns and operates Timeless Media Group, Biograph Records, Majordomo Records, HighTone Records and Video Time Machine. These riches are the result of a creative acquisition mandate that has established the company as a hotbed of cultural preservation and commercial reinvention.  Shout! Factory is based in Santa Monica, California. For more on Shout! Factory, visit shoutfactory.com

Julee is the writer behind the blog, Mommy's Memorandum. She vents her emotions through flour and butter. While she realizes there are the tried and true endorphin-inducers like exercise, being thankful and eating healthy, she prefers to live in the fast lane: real butter, a new recipe with a gazillion calories and laughing until she sobs…and of course blogging. She's perky, quirky, dorky. A Utah native and NC transplant with an appetitie to taste the world, meet its desserts!