Years ago my BFF gave me a recipe for Butterscotch Brownies. It's been at least two decades and the recipe is one of our favorites. May 9th is Butterscotch Brownie Day and this recipe celebrates it and friendship.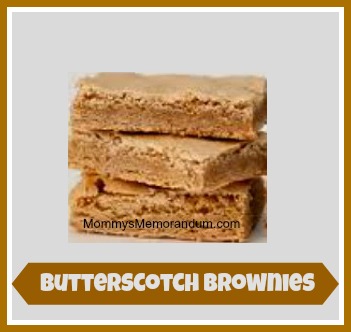 Ingredients:
1/2 cup margarine
2 cups Brown Sugar
2 eggs
1-1/2 cups flour
2 tsp. baking powder
1 tsp. vanilla
1 tsp. salt
1 cup nuts
Directions:
Cream the margarine and brown sugar until fluffy.
Add remaining ingredients.
Place in greased 8×8 pan for thicker brownies or a 13×9 pan for thinner brownies.
Bake at 350 degrees for 20-25 minutes

Julee is the writer behind the blog, Mommy's Memorandum. She vents her emotions through flour and butter. While she realizes there are the tried and true endorphin-inducers like exercise, being thankful and eating healthy, she prefers to live in the fast lane: real butter, a new recipe with a gazillion calories and laughing until she sobs…and of course blogging. She's perky, quirky, dorky. A Utah native and NC transplant with an appetitie to taste the world, meet its desserts!