Ever make a recipe and realize it calls for buttermilk? Something most of us don't buy often; right?
If you don't have buttermilk on hand here's the easiest way to create buttermilk with what you have on hand.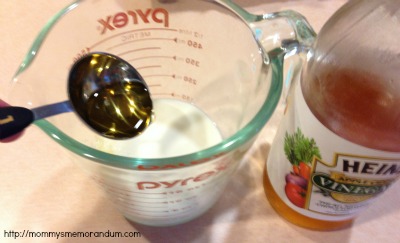 Ad 1T vinegar to 1/2 c 2% milk and set aside until needed

Julee is the writer behind the blog, Mommy's Memorandum. She vents her emotions through flour and butter. While she realizes there are the tried and true endorphin-inducers like exercise, being thankful and eating healthy, she prefers to live in the fast lane: real butter, a new recipe with a gazillion calories and laughing until she sobs…and of course blogging. She's perky, quirky, dorky. A Utah native and NC transplant with an appetitie to taste the world, meet its desserts!